Journal of Asian Development is an international, peer-reviewed, open-access journal regularly publishing two issues per year. The publisher is Macrothink Institute, an independent organization delivering support and services to educators and researchers.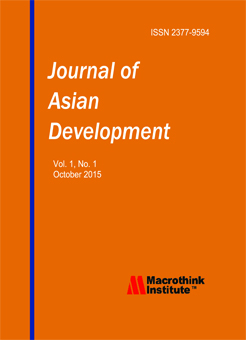 The journal features a special focus on the regional social science topics in Asia:
Political Science;
Economics and Management;
Law;
Education;
Sociology;
Cultural Anthropology; and
History.
In addition to the social science, the journal covers the entire spectrum of research on
Environmental Science;
Urban Studies;
Geography; or
Other subjects related with the Asian development.
All types of articles are welcome, such as original articles, review articles, case reports, technical reports, research letters, etc.
Authors are encouraged to submit completely unpublished works, which are not under review in any other journals.
The journal follows the Gold Open Access way in publishing. 
Copyrights for articles are retained by the authors, with first publication rights granted to the journal/publisher.
-----------------------------------------------------------------------
Paper Selection and Publication Process

a). Upon receipt of paper submission, the Editor sends an E-mail of confirmation to the corresponding author within 1-3 working days. If you fail to receive this confirmation, your submission/e-mail may be missed. Please contact the Editor in time for that.

b). Peer review. The review process may take 4-10 weeks.

c). Notification of the result of review by E-mail.

d). The authors revise paper and pay Article Processing Charge (100USD).

e). E-journal in PDF is available on the journal's webpage, free of charge for download. We aim to post articles within 1 week of acceptance.
---------------------------------------------------------------------
Announcements
: Recently Launched Special Issue

Vol. 5, No. 1, February 2019

Policy and Practice on Livelihood Re-establishment after Resettlement by Dam Construction

 

Lead Guest Editor

Ryo Fujikura, Professor, Hosei University, Japan
Mikiyasu Nakayama, Professor, The University of Tokyo, Japan

 Working schedule:

Manuscript Due: January 10th, 2019

First Round of Reviews: February 3th, 2019

Final Revised Papers and Payment to JAD: February 15th, 2019

JAD Publication Online:  February 28th, 2019

The special issue will be published online in February, 2019. Please stay tuned Journal of Asian Development: http://jad.macrothink.org


Posted: 1969-12-31
More...

: JAD has been indexed in RePEc

We are pleased to announced that the journal has been indexed in RePEc at https://ideas.repec.org/s/mth/jad888.html

RePEc (Research Papers in Economics) is a collaborative effort of hundreds of volunteers in 82 countries to enhance the dissemination of research in Economics and related sciences. The heart of the project is a decentralized bibliographic database of working papers, journal articles, books, books chapters and software components, all maintained by volunteers.

You can find more details at http://repec.org/

Posted: 2016-01-26
More...

: Call for Papers

The journal welcomes submissions of original manuscripts from students, researchers, academic and industrial professionals.

Author Guidelines

http://en.macrothink.org/author/

Submission

All manuscripts should be submitted online

Please note that you should register as an Author before online submission.

Posted: 2015-03-15
More...

: Recruitment Reviewers

We are recruiting reviewers for the journal. If you are interested in becoming a reviewer, we welcome you to join us. Please find the

 

details

 

and

 

e-mail

 

the completed

 

application form

 

to the journal editor.
Posted: 2015-03-15
More...
Vol 7, No 1 (2021)
Vol. 7, No. 1, April 2021
Table of Contents
Articles
| | | |
| --- | --- | --- |
| | Nguyen Thi Thu Hương, Do Thi Nang, Ho Thi Hoa, Tran Thi Hien, Nguyen Quang Sang, Le Hoang Anh | 73-93 |