Journal of Asian Development is an international, peer-reviewed, open-access journal regularly publishing two issues per year. The publisher is Macrothink Institute, an independent organization delivering support and services to educators and researchers.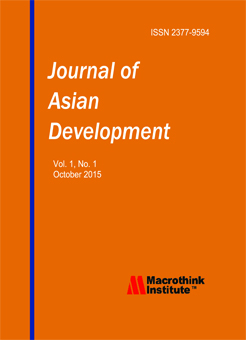 The journal features a special focus on the regional social science topics in Asia:
Political Science;
Economics and Management;
Law;
Education;
Sociology;
Cultural Anthropology; and
History.
In addition to the social science, the journal covers the entire spectrum of research on
Environmental Science;
Urban Studies;
Geography; or
Other subjects related with the Asian development.
All types of articles are welcome, such as original articles, review articles, case reports, technical reports, research letters, etc.
Authors are encouraged to submit completely unpublished works, which are not under review in any other journals.
The journal follows the Gold Open Access way in publishing. 
Copyrights for articles are retained by the authors, with first publication rights granted to the journal/publisher.
Announcements
: Recently Launched Special Issue

Improving Policy and Practice on Return Migration after Natural Disasters

Lead Guest Editor

Mikiyasu Nakayama, Professor, Graduate School of Frontier Sciences, University of Tokyo, Japan

Guest Editors

Nicholas Bryner, Emmett Institute on Climate Change and the Environment, UCLA School of Law, Los Angeles, CA, U.S.A.

Satoru Mimura, Japan International Cooperation Agency (JICA), Japan

The special issue was published online in February, 2017

http://www.macrothink.org/journal/index.php/jad/issue/view/541 

Posted: 2017-05-10
More...

: JAD has been indexed in RePEc

We are pleased to announced that the journal has been indexed in RePEc at https://ideas.repec.org/s/mth/jad888.html

RePEc (Research Papers in Economics) is a collaborative effort of hundreds of volunteers in 82 countries to enhance the dissemination of research in Economics and related sciences. The heart of the project is a decentralized bibliographic database of working papers, journal articles, books, books chapters and software components, all maintained by volunteers.

You can find more details at http://repec.org/

Posted: 2016-01-26
More...

: Call for Papers

The journal welcomes submissions of original manuscripts from students, researchers, academic and industrial professionals.

Author Guidelines

http://en.macrothink.org/author/

Submission

All manuscripts should be submitted online

Please note that you should register as an Author before online submission.

Posted: 2015-03-15
More...
Vol 3, No 2 (2017)
Vol. 3, No. 2, October 2017 (In Progress)
Table of Contents
Articles
| | | |
| --- | --- | --- |
| | Mikiyasu Nakayama, Hirotaka Fujibayashi, Daisuke Sasaki | 10-22 |
| | | |
| --- | --- | --- |
| | Ejitu N. OTA, Chinyere Samuel Ecoma | 23-42 |
| | | |
| --- | --- | --- |
| | Kenji Nozaki, Jingwei Shu | 43-59 |
| | | |
| --- | --- | --- |
| | Soukvisan Khinsamone | 60-77 |
| | | |
| --- | --- | --- |
| | Christy L. Pagal, Jhon Kevin A. Mirafuentes, Quennie C. Ypanto | 78-102 |
| | | |
| --- | --- | --- |
| | Indi Ruwangi Akurugoda, Patrick Barrett, Alan Simpson | 103-119 |
| | | |
| --- | --- | --- |
| | Liza L. Chua, Jhon Kevin A. Mirafuentes, Jonathan O. Etcuban | 120-145 |
| | | |
| --- | --- | --- |
| | Saki Ando, Maiko Sakamoto, Bounsouk Souksavath | 146-161 |
| | | |
| --- | --- | --- |
| | Muhammad Hamzah Idris, Djabir Hamzah, Indrianty Sudirman, Nurdjanah Hamid | 162-180 |
| | | |
| --- | --- | --- |
| | Trionoeddy SH. M.Hum | 181-195 |
| | | |
| --- | --- | --- |
| | Klimis Vogiatzoglou | 196-212 |
| | | |
| --- | --- | --- |
| | Abutaleb Motallebi Varkani, Amir Nezam Barati | 222-236 |