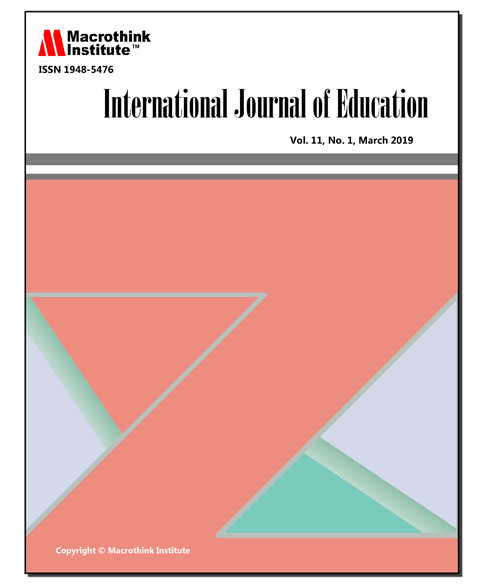 International Journal of Education(IJE) is an international, peer-reviewed journal that aims to provide a forum for all educators, educational policy-makers and planners to exchange invaluable ideas and resources.
International Journal of Education(IJE) publishes high quality original articles in the fields of educational policy and practice. The journal encompasses a variety of topics, including but are not limited to:
Teaching and learning
Curriculum
Pedagogy
Reading comprehension
Philosophies of education
Vocational education
Higher education
Educational psychology
Bilingualism
Special education
Institutional management and performance
Child development
Multicultural studies
Social theory
Educational approaches
International Journal of Education(IJE) accepts the following types of article:
Original articles, Review papers, Case studies
Announcements
IJE: Index/List/Archive

BIBLIOTECA

Cabell's

EBSCOhost

Excellence in Research for Australia (ERA)

Elektronische Zeitschriftenbibliothek EZB

Gale's Academic Databases

Google Scholar

Harvard Library

JournalTOCs

NewJour

Open Access Journals Search Engine (OAJSE)

ProQuest

SHERPA/RoMEO

Standard Periodical Directory

Ulrich

UCR Library

Posted: 2019-07-21

Call for Papers: Paper Submission

International Journal of Education(IJE) welcomes relevant papers and review articles on specific aspects of the field.

If you have new, unpublished manuscripts that might fit within our subject areas, please consider submitting to the journal. You may submit online: Submit Online

or e-mail submissions to ije@macrothink.org

If you have special considerations for your manuscript or for technical questions, please contact the Editor: ije@macrothink.org.

Posted: 2019-07-12

Notice: Reviewer Recruitment

Requirements

You must: a). have a doctoral degree in the specific subject related closely to the journal; b). have a job at a university or academic organization, in a teaching or research position; c). have free time outside your regular job, at least 6 hours per month (2-4 papers for review per month); d). be familiar with the APA citation system; e). be fluent in academic and professional English; f). have a strong interest in a scholarly journal; g). work quickly and accurately to tight deadlines; h). have an effective network in your research field.

 

How to apply

1. Complete application form. You can find the application form and details at: http://en.macrothink.org/recruitment/

2. Send your application to the Editor of the journal: ije@macrothink.org

Posted: 2019-07-09
More...