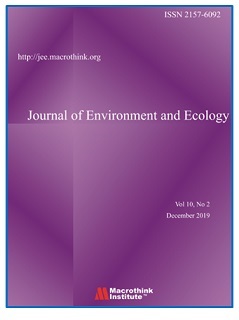 Journal of Environment and Ecology(JEE) is an online scholarly journal, peer-reviewed, published by Macrothink Institute. The journal encourages and publishes papers in the fields of environmental and ecological sciences, including environmental physics, environmental chemistry, environmental economics, environmental management, environmental engineering & technology, environmental health, ecological and environmental protection and some hot related issues such as air and water pollution, solid waste, noise, recycling, natural resources, climate change, biodiversity and so on.
Research article, conceptual paper, case study, book review, technical report, all of the aspects are acceptable.
Journal of Environment and Ecology is now indexed in the following list:  Gale's Academic Databases, Google Scholar, J-Gate, PKP Open Archives Harvester, Sherpa/Romeo.  
Journal of Environment and Ecology has used DOI (Digital Object Identifier) system. Each article will be assigned a DOI number and add persistent link for retrieval.
What is doi?
The Digital Object Identifier (DOI®) System is for identifying content objects in the digital environment. DOI® names are assigned to any entity for use on digital networks. They are used to provide current information, including where they (or information about them) can be found on the Internet. Information about a digital object may change over time, including where to find it, but its DOI name will not change.