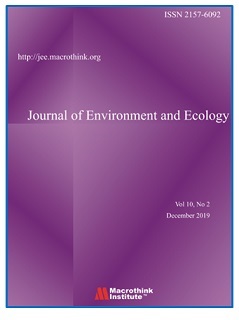 Journal of Environment and Ecology (JEE) is an online scholarly journal, peer-reviewed, published by Macrothink Institute. The journal encourages and publishes papers in the fields of environmental and ecological sciences, including environmental physics, environmental chemistry, environmental economics, environmental management, environmental engineering & technology, environmental health, ecological and environmental protection and some hot related issues such as air and water pollution, solid waste, noise, recycling, natural resources, climate change, biodiversity and so on.
Research article, conceptual paper, case study, book review, technical report, all of the aspects are acceptable.
Journal of Environment and Ecology is now indexed in the following list:    
Crossref

Google Scholar

JournalTOCs

PKP Open Archives Harvester

Qualis Index

: B4

RePEc

Sherpa/Romeo

Worldcat
The journal is published semiannually in June and December. The journal accepts article submissions online or by e-mail. For any questions, please contact jee@macrothink.org.
Each paper published in this journal is assigned a DOI® number, which appears beneath the author's affiliation in the published paper. Click HERE to know what is DOI (Digital Object Identifier). Click HERE to retrieve Digital Object Identifiers (DOIs) for journal articles, books, and chapters.
Paper Selection and Publication Process
a). Upon receipt of paper submission, the Editor sends an E-mail of confirmation to the corresponding author within 1-3 working days. If you fail to receive this confirmation, your submission/e-mail may be missed. Please contact the Editor in time for that.
b). Peer review. The review process may take 4-10 weeks.
c). Notification of the result of review by E-mail.
d). The authors revise paper and pay Article Processing Charge (200USD).
e). E-journal in PDF is available on the journal's webpage, free of charge for download. We aim to post articles within 3 weeks of acceptance.
Announcements
JEE: Vol. 14, No. 1, 2023, Call for papers

Journal of Environment and Ecology is calling for submission for the issue of Vol. 14, No. 1, 2023. 

You may see the journal's profile at http://jee.macrothink.org and submit online. You may also e-mail submissions to jee@macrothink.org.

It is appreciated if you could share this information with your colleagues and associates. Thank you.

Posted: 2023-08-22
More...

JEE: Recruitment Reviewers

Requirements

1. Possess a doctoral degree in a discipline related closely to the journal
2. Hold a teaching or research position at a university or academic institution
3. Be fluent in academic and professional English
4. Have a strong interest in the scholarly journal
5. Work quickly and accurately under tight deadlines
6. Reviewers are required to follow the Committee on Publication Ethics (COPE)'s COPE Ethical Guidelines for Peer Reviewers

How to apply

1. Complete the application form: MS-Word Form

2. Send your application to the journal editor: jee@macrothink.org

Posted: 2021-12-14
More...
Vol 14, No 1 (2023): [In Progress]
Journal of Environment and Ecology, Vol. 14, No. 1, 2023 
Table of Contents
Articles