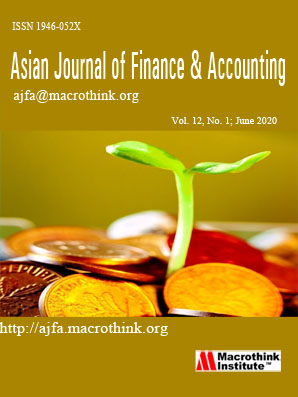 The journal has been moved to our new website: https://ajfa.macrothink.org
Asian Journal of Finance & Accounting (AJFA) is an internationally refereed journal published twice annually in June and December. The Journal is dedicated to the development, promotion and understanding of finance and accounting in their widest sense. Its main objective is to provide an online forum to disseminate findings of research in the fields of finance and accounting worldwide.
The editorial board welcomes original submissions in English. Apart from research articles it also accepts research notes. The number of words for a research article should preferably be between 5,000 and 8,000 and that for a research note should preferably be between 2,000 and 3,000. The Editorial Board also welcomes reviews of books published in English. The maximum number of words for a book review should be 1,000.
The following are some of the topical areas (but not limited to) relevant to the journal:
Finance:
- Behavioural finance
- Efficiency of stock and foreign exchange markets
- International parity conditions
- Valuation of securities
- Mergers and acquisitions
- Cost of capital and capital budgeting
- Modelling time-varying volatility of financial assets
- Time-varying correlations, betas and copulas
- Market microstructure
- Islamic finance
 Accounting:
- Financial reporting and international financial reporting standards
- Public sector accounting and auditing
- Corporate governance
- Audit expectation gap
- Market for audit services
- Determinants of job satisfaction of accounting academics
- Determinants of various disclosures in company annual reports
- Earnings management
- Auditing standards
The journal is published online semiannually in June and December. We aim to post articles online within 3 weeks of acceptance. The journal accepts article submissions online or by e-mail. For any questions, please contact: ajfa@macrothink.org
The journal is included and abstracted in: 
Authors are encouraged to submit your papers through OJS or your submissions to us via this email ajfa@macrothink.org directly according to the template (title page and paper template) and Author Guidelines.
Each paper published in AJFA is assigned a DOI® number, which appears beneath the author's affiliation in the published paper. Click HERE to know what is DOI (Digital Object Identifier)? Click HERE to retrieve Digital Object Identifiers (DOIs) for journal articles, books, and chapters.
Paper Selection and Publication Process
a). Upon receipt of paper submission, the Editor sends an E-mail of confirmation to the corresponding author within 1-3 working days. If you fail to receive this confirmation, your submission/e-mail may be missed. Please contact the Editor in time for that.
b). Peer review. The review process may take 4-10 weeks.
c). Notification of the result of review by E-mail.
d). The authors revise paper and pay an Article Processing Charge (200USD).
e). E-journal in PDF is available on the journal's webpage, free of charge for download. We aim to post articles within 3 weeks of acceptance.
Announcements
No announcements have been published.
Vol 13, No 2 (2021)
Vol. 13, No. 2, December 2021
Table of Contents
| | | |
| --- | --- | --- |
| | May Elewa, Shwikar Nagy | 1-22 |