Environmental Management and Sustainable Development (ISSN 2164-7682) is a peer-reviewed, open access journal, published by Macrothink Institute. This journal, published quarterly (February, May, August and November) in online version, keeps readers up-to-date with the latest developments in all aspects of environment management and sustainable development. The online version is free access and download.
Authors are encouraged to submit complete unpublished and original works, which are not under review in any other journals.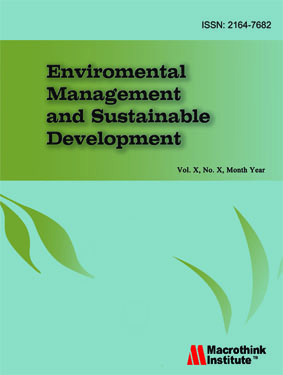 The scopes of the journal include, but not limited to, the following topic areas:
Economics of environmental management
Environmental impact assessment
Environmental legislation
Environmental policies and politics
Environmental systems
Improved energy efficiency
Process modification for pollution prevention
Remediation of contaminated sites
Resource quality, quantity and sustainability
Spill prevention and management
Sustainability
Sustainable development approaches and methods
Transport and fate of pollutants in the environment
Waste treatment and disposal
Water and energy related issues
This journal accepts article submissions online or by e-mail (emsd@macrothink.org).
ABSTRACTING AND INDEXING:
CrossRef
ERA(2018)

JournalTOCs

LOCKSS

PKP Open Archives Harvester

Sherpa/Romeo

Standard Periodical Directory

Toronto Public Library

WorldCat
--------------------------------------------------------------------
Paper Selection and Publication Process

a). Upon receipt of paper submission, the Editor sends an E-mail of confirmation to the corresponding author within 1-3 working days. If you fail to receive this confirmation, your submission/e-mail may be missed. Please contact the Editor in time for that.

b). Peer review. The review process may take 4-10 weeks.

c). Notification of the result of review by E-mail.

d). The authors revise paper and pay the Article Processing Charge (Formatting and Hosting)(100USD).

e). E-journal in PDF is available on the journal's webpage, free of charge for download.
--------------------------------------------------------------------
Call for Papers:
Environmental Management and Sustainable Development (EMSD) is calling for papers for the issue of Vol. 13, No. 1, May 2024 (Deadline: April 1, 2024).
Welcome you to submit manuscripts to this issue. Please find the information for authors.
If you have any questions, please contact: emsd@macrothink.org
It is appreciated if you could share this information with your colleagues and associates. Thank you.
--------------------------------------------------------------------
Recruitment for Reviewers:
We are recruiting reviewers for the journal. If you are interested in becoming a reviewer, we welcome you to join us. Please find the application form and details at http://macrothink.org/recruitment.htm and e-mail the completed application form to emsd@macrothink.org
--------------------------------------------------------------------
Each paper published in Environmental Management and Sustainable Development is assigned a DOI® number, which appears beneath the author's affiliation in the published paper. Click HERE to know what is DOI (Digital Object Identifier)? Click HERE to retrieve Digital Object Identifiers (DOIs) for journal articles, books, and chapters.
Issues
Current Issue

: 

(This issue is In Progress but contains articles that are final and fully citable)
Vol 12, No 2 (2023): [In Progress]
Environmental Management and Sustainable Development, Vol. 12, No. 2, November 2023
Table of Contents
Articles
| | | |
| --- | --- | --- |
| | DieuHa Nguyen, ManhThieu Nguyen | 1-8 |
| | | |
| --- | --- | --- |
| | Maria Alice Leite de Brito, Elaine Aparecida da Silva | 9-29 |
| | | |
| --- | --- | --- |
| | Larissa Chivanski Lopes, Eleia Righi, Jorge Alberto Vieira Costa | 30-53 |
| | | |
| --- | --- | --- |
| | Alexandro Gomes, Maria Francisca do Nascimento Oliveira, Marcelo Musci | 54-66 |
| | | |
| --- | --- | --- |
| | Richard Kwadzo Asare, Ernest Edem Tulasi, Mohammed Takase, Raymond Kirk Apawu | 67-83 |
| | | |
| --- | --- | --- |
| | Mihail N Diakomihalis, Nikolaos-Marios Diakomichalis | 96-113 |
| | | |
| --- | --- | --- |
| | Paulo Cezar da Cunha Junior, Maria Toledo de Carvalho Silva, Lais Figueira Gebara Cabral, Marcos Filgueiras Jorge, Leonardo Duarte Batista da Silva, Rosane da Silva Rodrigues, Elisa Helena da Rocha Ferreira | 114-129 |
| | | |
| --- | --- | --- |
| | Leonard Veryee, Fombe Lawrence Fon, Kometa Sunday Shende | 130-145 |