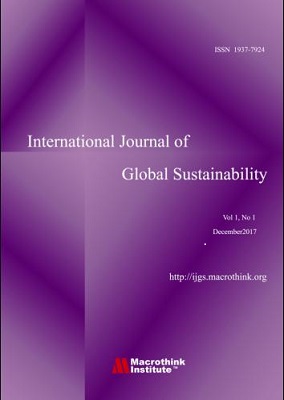 International Journal of Global Sustainability (IJGS) is an international, double-blind peer-reviewed, open-access journal published by Macrothink Institute. IJGS carries original and full-length articles that reflect the latest research and developments in both theoretical and practical aspects of Environment, Economic and Society with Sustainability. It provides an academic platform for professionals and researchers to contribute innovative work in the field.
The scopes of the journal include, but are not limited to, the following fields:
Climate change
Ecology and sustainable development
Waste and water management
Renewable and sustainable energy
Environmental technologies
Green construction and sustainable development
Sustainable land development
Environmental economics and policy
Urban planning and development
Social sciences and humanities
Social impact assessment
Sustainable of agricultural systems 
The journal accepts article submissions online or by e-mail. For any questions, please contact: ijgs@macrothink.org.  Authors are encouraged to submit their papers according to the template (title page and paper tempalte) and submission guide.
Each paper published in Journal of Social Science Studies is assigned a DOI® number, which appears beneath the author's affiliation in the published paper. Click HERE to know what is DOI (Digital Object Identifier)? Click HERE to retrieve Digital Object Identifiers (DOIs) for journal articles, books, and chapters.
Paper Selection and Publication Process
a). Upon receipt of paper submission, the Editor sends an E-mail of confirmation to the corresponding author within 1-3 working days. If you fail to receive this confirmation, your submission/e-mail may be missed. Please contact the Editor in time for that.
b). Peer review. We use double-blind system for peer-review; both reviewers and authors' identities remain anonymous. The paper will be peer-reviewed by three experts; two reviewers from outside and one editor from the journal typically involve in reviewing a submission. The review process may take 4-10 weeks.
c). Notification of the result of review by E-mail.
d). The authors revise paper and pay article processing charge (200USD).
e). E-journal in PDF is available on the journal's webpage, free of charge for download. 
--------------------------------------------------------------------------------
Open-access Policy
We follow the Gold Open Access way in journal publishing. This means that authors publish in the journals that provide immediate open access for readers to all articles on the publisher's website. The readers pay nothing, while authors (or their institutions or funders) pay a publishing fee to maintain the journal operation.
All articles published are open-access articles distributed under the terms and conditions of the Creative Commons Attribution license.
Announcements
IJGS: Call for papers

International Journal of Global Sustainability is calling for submission of papers for the Vol. 7, No. 1, 2023 issue (Deadline: December 10, 2023). If you are interested in submitting a manuscript, please submit your manuscripts online or e-mail your paper to ijgs@macrothink.org




It is appreciated if you can spread this message to your colleagues and academic networks.

Posted: 2023-03-05
More...

IJGS: Recruitment Reviewers

Requirements

1. Possess a doctoral degree in a discipline related closely to the journal
2. Hold a teaching or research position at a university or academic institution
3. Be fluent in academic and professional English
4. Have a strong interest in the scholarly journal
5. Work quickly and accurately under tight deadlines
6. Reviewers are required to follow the Committee on Publication Ethics (COPE)'s COPE Ethical Guidelines for Peer Reviewers

How to apply

1. Complete the application form: MS-Word Form

2. Send your application to the journal editor: ijgs@macrothink.org

Posted: 2021-12-14
More...
Vol 7, No 1 (2023): [In Progress]
International Journal of Global Sustainability, Vol. 7, No. 1, 2023
Table of Contents
Articles
| | | |
| --- | --- | --- |
| | Ngwani Awudu, Roland Nformi, Funwi Godlove, Yinkfu Randy | p1 |
| | | |
| --- | --- | --- |
| | Baba A., Toumba O., Humphrey N. N. | p18 |
| | | |
| --- | --- | --- |
| | Kometa Raoul Ndikebeng, Cletus Fru Forba, Suiven John Paul Tume, Banseka JaneFrances Yenlajai, Jude Ndzifon Kimengsi | p37 |
| | | |
| --- | --- | --- |
| | Chrysogonus Asante Frimpong | p65 |