International Journal of Social Work (IJSW) is an international, peer-reviewed, open-access journal published by the Macrothink Institute. The journal is striving to provide the best platform for the publication of refereed original articles, reviews, reports, commentaries and debate covers every aspect of social work with theory, practice, counselling, social care planning, education, management and policy.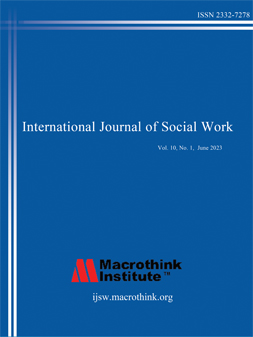 The journal focuses on the Clinical Therapy, Management Supervision and Research in the field of Social Work. Including but not limited to:
Interventions for Children, Youths and Families
Disability Study and Practice
Health Social Work
HIV Intervention and Prevention
Gerontology Policy and Practice
Mental Health
Work Stress
Criminal Justice
Social and Economic Development
The journal is published in online versions, which is free access and download. 
Paper Selection and Publication Process
a). Upon receipt of paper submission, the Editor sends an E-mail of confirmation to the corresponding author within 1-3 working days. If you fail to receive this confirmation, your submission/e-mail may be missed. Please contact the Editor in time for that.
b). Peer review. We use double-blind system for peer-review; both reviewers and authors' identities remain anonymous. The paper will be peer-reviewed by three experts; one is an editorial staff and the other two are external reviewers. The review process may take 4-10 weeks.
c). Notification of the result of review by E-mail.
d). The authors revise paper and pay article processing charge (100USD).
e). E-journal in PDF is available on the journal's webpage, free of charge for download.
NOTE:
The publisher and journal have a policy of "Zero Tolerance on the Plagiarism". We check the plagiarism issue through two methods: reviewer check and plagiarism prevention tool (ithenticate.com).
All submissions will be checked by iThenticate before being sent to reviewers.
Each paper published in International Journal of Social Work is assigned a DOI® number, which appears beneath the author's affiliation in the published paper. Click HERE to know what is DOI (Digital Object Identifier)? Click HERE to retrieve Digital Object Identifiers (DOIs) for journal articles, books, and chapters.
---------------------------------------------------------------------------------------------------
Indexed in RePEc
We are pleased to announced that the journal has been indexed in RePEc at
http://econpapers.repec.org/article/mthijsw88/
RePEc (Research Papers in Economics) is a collaborative effort of hundreds of volunteers in 82 countries to enhance the dissemination of research in Economics and related sciences. The heart of the project is a decentralized bibliographic database of working papers, journal articles, books, books chapters and software components, all maintained by volunteers.
You can find more details at http://repec.org
---------------------------------------------------------------------------------------------------
Index
Crossref
EconBib
InfoBase Index
JournalTOCs
LOCKSS
Open Academic Journals Index
Polish Scholarly Bibliography (PBN)
RePEc (Research Papers in Economics)
Sherpa/Romeo