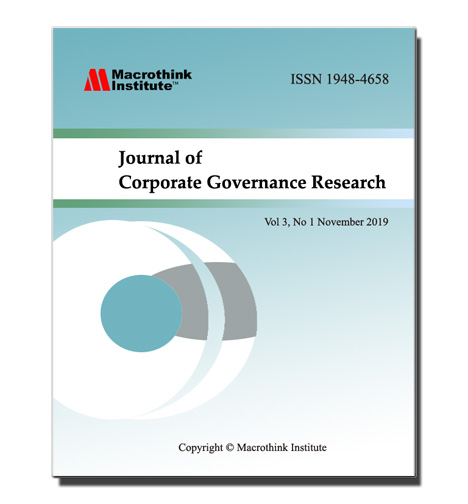 Journal of Corporate Governance Research(JCGR) is a peer-reviewed, open-access journal publishing high-quality, original manuscripts that analyse topics and issues related to corporate governance. JCGR provides an international platform for the exchange of strategic and operational experience, information, insights and knowledge based on both theoretical development and practical experience. The journal is committed to promoting the development of the science and practice of corporate governance throughout the world. JCGR targets researchers from both academia and business community.
Journal of Corporate Governance Research(JCGR) covers a broad range of corporate governance issues. The topics addressed in the journal include, but not limited to:
Board composition and practices 
Board diversity
Business administration
Control and regulation
Corporate ethics 
Corporate social responsibility
Disclosure and transparency
Leadership
Not-for–Profit governance
Regulation and practices
Risk management
Role of boards
Shareholder activism
SME governance
Sustainability
Announcements
Call for Papers: Journal of Corporate Governance Research

Journal of Corporate Governance Research provides the ideal forum for researchers and professionals to share their rapidly developing knowledge and report on new advances. The journal publishes both theoretical and empirical articles as well as public policy papers dealing with broad issues on corporate governance. The submissions will be welcomed on a wide range of the topics.

If you have new, unpublished manuscripts that might fit within our subject areas, please consider submitting to the journal. You may submit online:  Submit Online

or e-mail submissions to jcgr@macrothink.org

Posted: 2019-07-13
More...

JCGR: Recruitment: Reviewers of Journal

Requirements

1. Possess a doctoral degree in a discipline related closely to the journal
2. Hold a teaching or research position at a university or academic institution
3. Be fluent in academic and professional English
4. Have a strong interest in the scholarly journal
5. Work quickly and accurately under tight deadlines
6. Reviewers are required to follow the Committee on Publication Ethics (COPE)'s COPE Ethical Guidelines for Peer Reviewers

How to apply

1. Complete application form. You can find the application form and details at: http://www.macrothink.org/recruitment.htm

2. Send your application to the Editor of the journal: jcgr@macrothink.org

Posted: 2019-07-13
More...
Vol 7, No 1 (2023)
Vol. 7, No. 1, November 2023 (In Progress)
Table of Contents
Articles
| | | |
| --- | --- | --- |
| | Peter AM Jansen, Melinda Timea Fulop | p1-p30 |