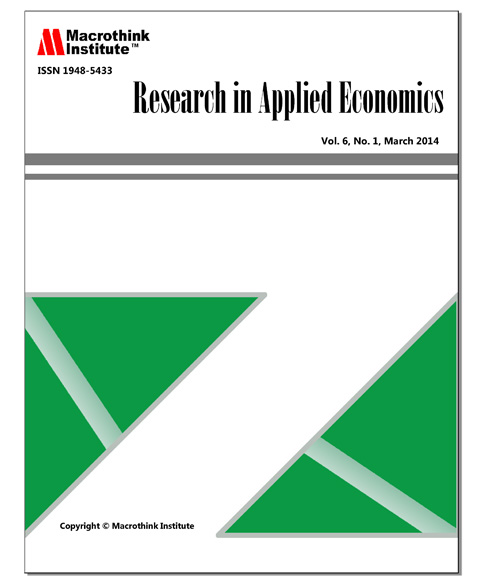 Research in Applied Economics (RAE) is an international, peer-reviewed online journal published by Macrothink Institute. It publishes papers in applied economics broadly defined.
The purpose of the journal is to enhance the study of economic issues. A wide range of applied economic researches with high quality are concerned with behaviors and policies of economic organizations and producers, consumers and governments. The journal plays an important role in promoting the scholarly investigation of issues involved in economics activities and in providing opportunities for sharing the results among members of the academic community.
Topics include but are not limited to:
Monetary policy
Fiscal policy
Exchange rates
International economics
Economic growth and development
Labor economics and relations
Regional and urban economics
Industrial organization
Applied microeconomics
Energy economics
Public policy
Economic programs
Research in Applied Economics (RAE) accepts the following types of article:
Original articles, Review papers, Case studies
Announcements
Notice: Index/List/Archive

BASE

BIBLIOTECA

EBSCOhost

EconBiz

EconLit (December 2009 to June 2017)

EconPapers

Elektronische Zeitschriftenbibliothek EZB

Gale's Academic Databases

Google Scholar

Harvard Library

IDEAS

JournalTOCs

Open Access Journals Search Engine (OAJSE)

ProQuest

Publons

RePEc

SHERPA/Romeo

ZBW-German National Library of Economics

UCR Library

Posted: 2019-07-21

RAE: Call for Papers

The Research in Applied Economics is soliciting manuscripts for future issues. If you have new, unpublished manuscripts that might fit within our subject areas, please consider submitting to the journal. Please submit online: Submit Online

or email your submissions to rae@macrothink.org

If you have special considerations for your manuscript or for technical questions, please contact the Editor: rae@macrothink.org

Posted: 2019-07-12
More...

RAE: Reviewer Recruitment

We are recruiting reviewers for the journal. If you are interested in becoming a reviewer, we welcome you to join us.
Posted: 2019-07-10
More...