Journal of Public Administration and Governance (JPAG) is an internationally refereed journal published 
quarterly
in March, June, September and December. JPAG is published by Macrothink Institute, United States. The Journal aims to provide in-depth analysis of developments in the organizational, administrative, and policy sciences as they apply to government and governance. Each issue brings you critical perspectives and cogent analyses, serving as an outlet for the best theoretical and research work in the field.  The Journal accepts article submissions 
online
 or by 
e-mail
. For any questions, please contact:
jpag@macrothink.org
JPAG is included in: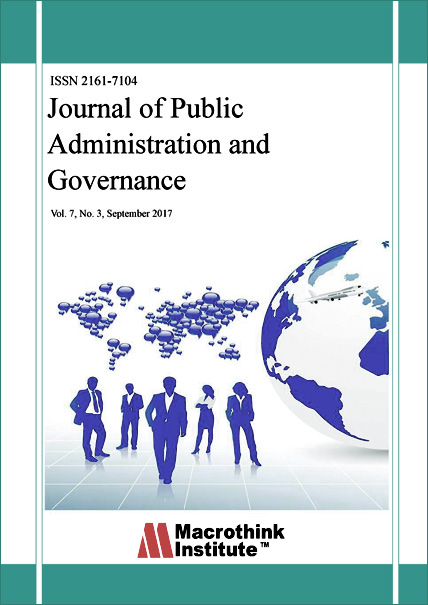 CrossRef

Index Copernicus

LOCKSS

Ulrich's Periodical Directory

WorldCat
Areas include but are not limited to:
Public Policy

Governance

Administration

Management

Corporation Administration

Human Resource Management

Other Relevant Subjects
Authors are invited to submit complete unpublished and original works, which are not under review in any other journal.
This journal is published in online version. The online version can be free access and download.
----------------------------------------------------------------------------------
Issues 
Current Issue (This issue is In Progress but contains articles that are final and fully citable)
----------------------------------------------------------------------------------
Each paper published in this journal is assigned a DOI® number, which appears beneath the author's affiliation in the published paper. Click HERE to know what is DOI (Digital Object Identifier)? Click HERE to retrieve Digital Object Identifiers (DOIs) for journal articles, books, and chapters.
Paper Selection and Publication Process
a). Upon receipt of paper submission, the Editor sends an E-mail of confirmation to the corresponding author within 1-3 working days. If you fail to receive this confirmation, your submission/e-mail may be missed. Please contact the Editor in time for that.
b). Peer review. The review process may take 2-3 weeks.
c). Notification of the result of review by E-mail.
d). The authors revise paper and pay publication fee(200USD).
e). E-journal in PDF is available on the journal's webpage, free of charge for download. We aim to post articles within 3 weeks of acceptance.
Announcements
JPAG: Journal of Public Administration and Governance Indexed in Excellence in Research for Australia (ERA) 2018 Journal List

Journal of Public Administration and Governance (JPAG) has been indexed by ERA 2018 Journal List. Excellence in Research for Australia, Australia's national research evaluation framework. ERA identifies and promotes excellence across the full spectrum of research activity in Australia's higher education institutions.
Posted: 2020-03-19
More...

JPAG: Recruitment of Reviewers

Would you like to be a reviewer of Journal of Public Administration and Governance? Welcome you join us.

Status: Part time 
Working language: English
Working style: Internet-based 
Payment: Volunteer job, no payment
Posted: 2020-03-19
More...

JPAG: 2017 Top Journals in Administration Ranked by h5-index

As of Dec. 2016, there are more than 25,000 open access journals (OA) published around the world and only about 5200 journals are indexed by Google Scholar Metrics (h5 index) as of June 2017. To help researchers and publishers learn more about open access (OA) journals, the team of Open Access Library released the latest version of rankings for open access journals in August 2017.

The h5-index for the journal Journal of Public Administration and Governance published by Macrothink Institute is 7, ranked 11th in the top open access journals matching Administration.

 

| | | | |
| --- | --- | --- | --- |
| Rankings | Journal Title | Publisher | h5-index |
| 1. | Public Administration | Academia de Administrare Publica | 33 |
| 2. | Ephemera: Theory and Politics in Organization | University of Leicester, University of Essex | 13 |
| 3. | Contaduría y Administración | Universidad Nacional Autónoma de México | 13 |
| 4. | RAI: Revista de Administracao e Inovacao | Universidade de Sao Paulo | 11 |
| 5. | Transylvanian Review of Administrative Sciences | Babes Bolyai University | 11 |
| 6. | Journal of Public Administration | Photon Foundation | 10 |
| 7. | REAd: Revista Eletronica de Administracao | Universidade Federal do Rio Grande do Sul | 10 |
| 8. | Journal of Hospital Administration | Sciedu Press | 9 |
| 9. | USV Annals of Economics and Public Administration | Stefan cel Mare University of Suceava | 8 |
| 10. | Administracao: Ensino e Pesquisa | Associacao Nacional dos Cursos de Graduacao em Administracao | 7 |
| 11. | Journal of Public Administration and Governance | Macrothink Institute | 7 |
| 12. | Management and Business Administration. Central Europe | Kozminski University | 7 |
| 13. | Administracao Pública e Gestao Social | Universidade Federal de Vicosa | 6 |

Posted: 2018-07-04
More...
Vol 11, No 2 (2021):
Journal of Public Administration and Governance, Vol. 11, No. 2, June 2020
Table of Contents
Articles
| | | |
| --- | --- | --- |
| | Phillip Y. Freiberg, Kasemsarn Chotchakornpant | Pages 1-23 |
| | | |
| --- | --- | --- |
| | Matthew Funsho Bello, Kajo Aondohemba Emmanuel | Pages 24-57 |
| | | |
| --- | --- | --- |
| | David V. Tolliver, Michael T. Miller, G. David Gearhart | Pages 58-70 |
| | | |
| --- | --- | --- |
| | ETEBOM John Monday | Pages 71-85 |
| | | |
| --- | --- | --- |
| | Jake Dabang Dan-Azumi, Caroline Asan | Pages 86-109 |
| | | |
| --- | --- | --- |
| | Temitope Francis Abiodun, Marcus Temitayo Akinlade, Olanrewaju Abdulwasii Oladejo | Pages 110-133 |
| | | |
| --- | --- | --- |
| | Abdulhamid Ozohu-Suleiman | Pages 134-155 |
| | | |
| --- | --- | --- |
| | Matuku Mphahlele, Horacio Zandamela | Pages 156-177 |
| | | |
| --- | --- | --- |
| | Ashiru Olayemi Aliyu, Kuppusamy Singaravelloo, Norma Mansor | Pages 178-190 |
| | | |
| --- | --- | --- |
| | Varun Amatya, Pairote Pathranarakul | Pages 191-209 |
| | | |
| --- | --- | --- |
| | Kaihula P. Bishagazi | Pages 210-228 |
| | | |
| --- | --- | --- |
| | Edet Joshua Tom, Harrison Otuekong Ataide | Pages 229-245 |
| | | |
| --- | --- | --- |
| | Olukemi Ajibike Aluko | Pages 246-257 |
| | | |
| --- | --- | --- |
| | Mansur Muhammad Bello, Bilyaminu Tukur | Pages 258-276 |
| | | |
| --- | --- | --- |
| | Paul Maganga Nsimbila | Pages 277-293 |
| | | |
| --- | --- | --- |
| | Tendai Chigavazira, Horácio Lucas Zandamela | Pages 294-316 |
| | | |
| --- | --- | --- |
| | Ktut Silvanita Mangani, Adolf Bastian Heatubun, Martua Eliakim Tambunan | Pages 317-330 |
| | | |
| --- | --- | --- |
| | Jihane Aayale, Meriem Seffar | Pages 331-356 |
| | | |
| --- | --- | --- |
| | Hayan Park, Muhammad Firdaus Samijadi | Pages 357-381 |
| | | |
| --- | --- | --- |
| | Laode Ahmad Pidana Bolombo | Pages 382-398 |