Business and Economic Research (BER; ISSN 2162-4860) is an internationally refereed journal, published online by Macrothink Institute, United States. The journal publishes research papers, reviews and short communications in all fields of economics and business.
The journal is published semiannually in June and December. We aim to post articles online within 3 weeks of acceptance. The Journal accepts article submissions online or by e-mail.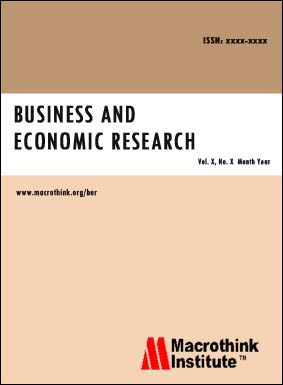 BER is included in:
CrossRef; 

EBSCOhost; 

EconPapers

Gale's Academic Databases

GetInfo; Google Scholar Citations; IDEAS

J-Gate; Journal Directory

JournalTOCs; LOCKSS

MediaFinder®-Standard Periodical Directory

RePEc; Sherpa/Romeo

Standard Periodical Directory

Ulrich's; WorldCat
Areas include but are not limited to:
Accounting;
Economics; 
Finance & Investment; 
General Management; 
Management Information Systems; 
Business Law; 
Global Business;
Marketing Theory and Applications;
General Business Research;
Business & Economics Education;
Production/Operations Management; 
Organizational Behavior & Theory; 
Strategic Management Policy; 
Labor Relations & Human Resource Management;
Technology & Innovation; 
Public Responsibility and Ethics; 
Public Administration and Small Business Entrepreneurship.
Authors are invited to submit complete unpublished and original works, which are not under review in any other journal.
This journal is published in online version. The online version can be free access and download.
----------------------------------------------------------------------------------
Issues
----------------------------------------------------------------------------------
Each paper published in Business and Economic Research is assigned a DOI® number, which appears beneath the author's affiliation in the published paper. Click HERE to know what is DOI (Digital Object Identifier)? Click HERE to retrieve Digital Object Identifiers (DOIs) for journal articles, books, and chapters.
Paper Selection and Publication Process

a). Upon receipt of paper submission, the Editor sends an E-mail of confirmation to the corresponding author within 1-3 working days. If you fail to receive this confirmation, your submission/e-mail may be missed. Please contact the Editor in time for that.

b). Peer review. We use a double-blind system for peer review; both reviewers' and authors' identities remain anonymous. The submitted manuscript will be reviewed by at least two experts: one editorial staff member as well as one to three external reviewers. The review process may take 2-3 weeks.

c). Notification of the result of review by E-mail.

d). The authors revise paper and pay publication fee(100USD).

e). E-journal in PDF is available on the journal's webpage, free of charge for download. We aim to post articles within 3 weeks of acceptance.
Announcements
BER: Call for papers

Business and Economic Research is calling for submission for the issue of Vol. 9, No. 3, September 2019 (Deadline: August 1, 2019).

Welcome you to submit manuscripts to this journal. Please find the information for authors.

If you have any questions, please contact with the Editor: ber@macrothink.org

It is appreciated if you can spread this message to your colleagues and academic networks. Thanks.

Posted: 1969-12-31
More...

BER: Reviewers Recruitment

Requirements

a). have a doctoral degree in the specific subject related closely to the journal; 
b). have a job at a university or academic organization, in a teaching or research position; 
c). have free time outside your regular job, at least 6 hours per month (2-4 papers for review per month); 
d). be familiar with the APA citation system; 
e). be fluent in academic and professional English; 
f). have a strong interest in a scholarly journal; 
g). work quickly and accurately to tight deadlines; 
h). have an effective network in your research field.

How to apply

1. Find details and download application form at: http://www.macrothink.org/recruitment.htm 
2. Send your application to: ber@macrothink.org

Posted: 2017-12-21
More...
Vol 9, No 2 (2019)
Business and Economic Research, Vol. 9, No. 2, June 2019
Table of Contents
Articles
| | | |
| --- | --- | --- |
| | Osei-Assibey Mandella Bonsu, Li Kao Dui, Liu Ruiwen, Evans Kwabena Asare, Agyemang Fredua Sylvester Prempeh | 1-17 |
| | | |
| --- | --- | --- |
| | Kirima Lucy Karimi, Antony Munyori | 18-32 |
| | | |
| --- | --- | --- |
| | Ahmed Zouhair, Noah Kasraie | 33-44 |
| | | |
| --- | --- | --- |
| | Yu Hsing, Minh Q. Huynh | 45-56 |
| | | |
| --- | --- | --- |
| | Hiroyuki Taguchi, Jambaldorj Bolortuya | 57-71 |
| | | |
| --- | --- | --- |
| | Ali Hammad, Intikhab Ahmad, Syed Muhammad Sikander, Md Amjad Hossain Reyad, Syed Mazahir Kazmi | 72-91 |
| | | |
| --- | --- | --- |
| | Mouldi Djelassi, Mdalla Omrani | 92-117 |
| | | |
| --- | --- | --- |
| | Christoph Voegeli | 118-145 |
| | | |
| --- | --- | --- |
| | Kawsar Jahan, Mohammod Akbar Kabir, Farjana Nur Saima, Md. Nasim Adnan | 146-159 |
| | | |
| --- | --- | --- |
| | Despina Tumanoska | 160-168 |