International Journal of Learning and Development (IJLD) is an internationally refereed journal publish four issues per year in March, June, September and December, published by Macrothink Institute, United States.
The Journal aims to promote the theory and practice of Learning and Development in Social Sciences, to provide an international forum for discussion and debate, and to stress the critical importance of individual, team and organizational learning and development to a wide range of economic, political and social concerns. IJLD's focus lies in providing a critical link between high quality academic research and the practical implications for business practices. It has become essential reading for everyone involved in personnel, training and human resource development.
Coverage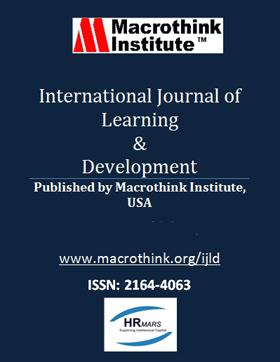 Individual Learning & Team Learning;

Learning Strategies;

Action Learning;

Educational Learning

;

Self Managed Learning;

Work-Based Learning;

Organizational Learning;

Experiential Learning;

Social Learning;

Knowledge Management;

Training and Development

;

Psychology Development

;

Attitude Development

;

Organization Development;

Leadership and Management Development;

Human Resource Management;

Human Capital Development;

Sociological Development.
Indexing
Australian Research Council (ERA Journal List)

CrossRef

EBSCOhost

Gale's Academic Databases

Google Scholar

Norwegian Social Science Data Services (NSD)

Open J-Gate

OCLC-Worldcat

PKP Open Archives Harvester

ProQuest

Sherpa/Romeo

Ulrich's Periodical Directory
Announcements
: Call for Papers

International Journal of Learning and Development is calling for submission for the issue of Vol. 7, No. 2, June 2017.


Authors are encouraged to submit completely unpublished works, which are not under review in any other journals.

For any questions, please contact: ijld@macrothink.org

Posted: 2017-05-10
More...

: Restructure the Editorial Team

The publisher (Macrothink Institute) is planning to restructure the editorial board. The new editorial board will include the positions of editor-in-chief (one person), associate editors (three to ten persons), editorial assistant (one to three persons) and editorial board members.

If you are interested in becoming one of the editorial team members, we welcome you to join us. Please find the application form and details at http://recruitement.macrothink.org and e-mail the completed application form to ijld@macrothink.org.

Thank you.
Posted: 2017-04-23
More...
Vol 7, No 4 (2017)
International Journal of Learning and Development, Vol. 7, No. 4, December 2017 (In Progress)
Table of Contents
Articles