Business Management and Strategy (BMS; ISSN: 2157-6068) is an internationally online journal, published by Macrothink Institute. The journal publishes research papers, reviews and short communications in all fields of business, management and strategy.
The journal is published online semiannually in June and December. The journal accepts article submissions online or by e-mail. For any questions, please contact bms@macrothink.org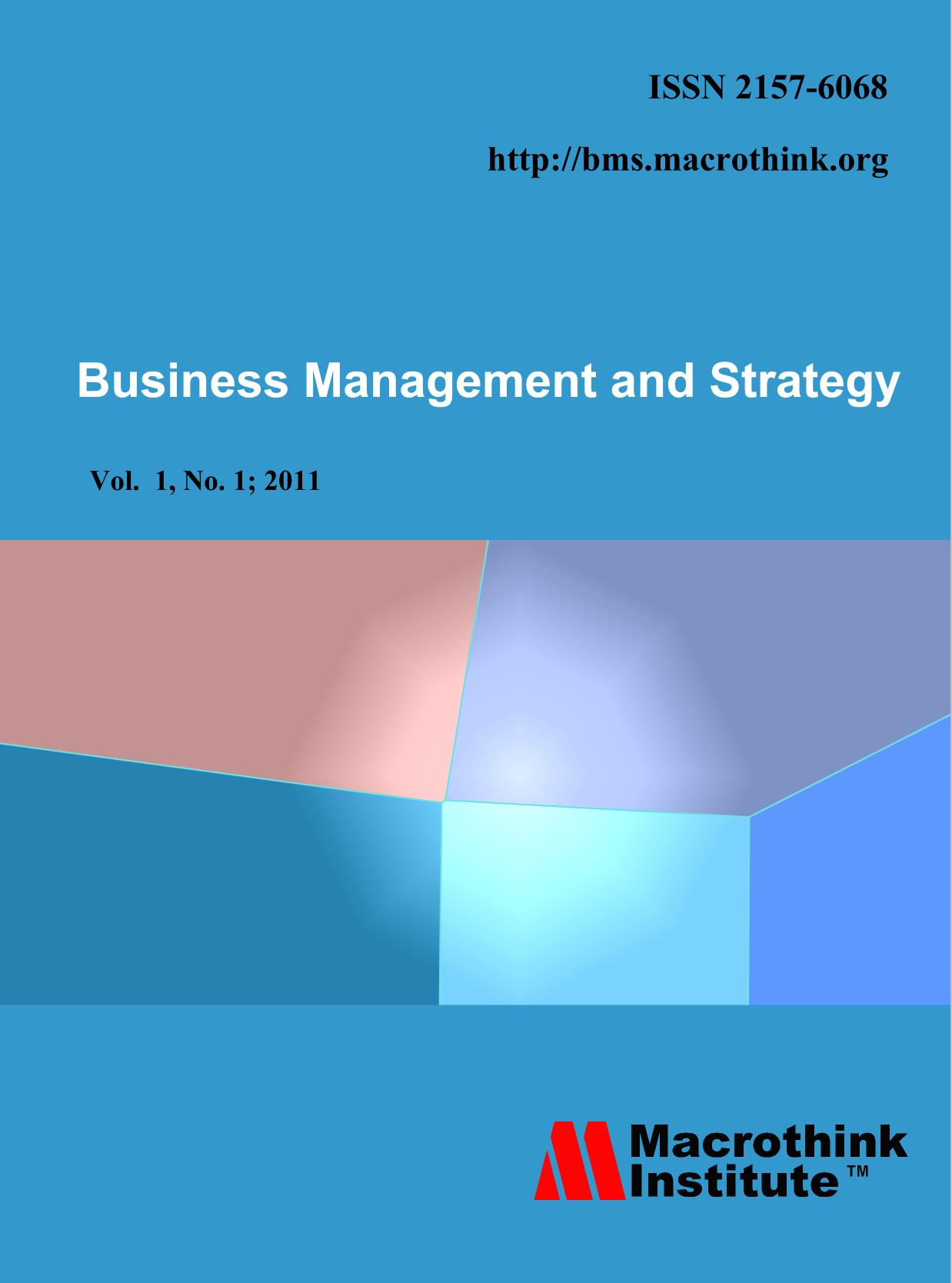 BMS is included in: 
Crossref
EconPapers
Google Scholar
RePEc
Worldcat
 Areas include but are not limited to:
operations management
production management
strategic management
marketing
economics
financial, information technology management
business analysis
business strategy
business development
enterprise management
human resource management and relevant subjects
Each paper published in BMS is assigned a DOI® number, which appears beneath the author's affiliation in the published paper. Click HERE to know what is DOI (Digital Object Identifier)? Click HERE to retrieve Digital Object Identifiers (DOIs) for journal articles, books, and chapters.
Paper Selection and Publication Process
a). Upon receipt of paper submission, the Editor sends an E-mail of confirmation to the corresponding author within 1-3 working days. If you fail to receive this confirmation, your submission/e-mail may be missed. Please contact the Editor in time for that.
b). Peer review. The review process may take 4-10 weeks.
c). Notification of the result of review by E-mail.
d). The authors revise paper and pay an Article Processing Charge (100USD).
e). E-journal in PDF is available on the journal's webpage, free of charge for download.
Announcements
BMS: Call for Papers

Business Management and Strategy (BMS) is calling for submission for the issue of Vol. 14, No. 2, December 2023. Submission deadline: December 1, 2023.

Welcome you to submit manuscripts to this journal. You may submit your manuscript online at http://bms.macrothink.org. You may also submit it via email bms@macrothink.org


It is appreciated if you could share this information with your colleagues and associates.

Posted: 2023-05-23
More...

BMS: Recruitment for Reviewers

Status: Part time 
Working language: English
Working style: Internet-based 
Payment: Volunteer job, no payment

Description

Participation in the peer-review process is absolutely essential to the success and reputation of the journal. Reviewers along with the editors determine which work is of quality and significance; and, because of the extensive readership, what research and scholarship will ultimately have an impact on literacy in classrooms nationally and internationally. Reviewers are asked to promote our journals by submitting their own manuscripts for review, by recommending and encouraging other potential authors, by introducing the journal to potential readers and subscribers; and/or by communicating formally and informally with the editors about issues of relevance to the journal.

How to apply

1. Find details and download application form at: http://recruitment.macrothink.org
2. Send your application to: bms@macrothink.org
Posted: 2023-03-05
More...
Vol 14, No 2 (2023): [In Progress]
Business Management and Strategy, Vol. 14, No. 2, December 2023
Table of Contents
Articles
| | | |
| --- | --- | --- |
| | Sumas Wongsunopparat, Zhai Nanjun | pp. 1-18 |
| | | |
| --- | --- | --- |
| | Mesay Ayele Gebreegziabher | pp. 19-38 |
| | | |
| --- | --- | --- |
| | Daniel Fonseca Costa, Bruno César de Melo Moreira, Washington Santos Silva, Lélis Pedro de Andrade | pp. 39-70 |
| | | |
| --- | --- | --- |
| | Aakash Jahangir, Amna Shabbir | pp. 71-84 |
| | | |
| --- | --- | --- |
| | Chengzhuo Zhang, Nik Hadiyan Binti Nik Azman | pp. 85-108 |
| | | |
| --- | --- | --- |
| | Abbas Alwan Ghazi Alateya, Shathees Baskaran | pp. 109-127 |
| | | |
| --- | --- | --- |
| | Saad A. Hammad | pp. 128-143 |
| | | |
| --- | --- | --- |
| | Wajiha Moughal, Shahrina Bt Md Nordin, Rohani Bt Salleh, Haider Ali Abbasi | pp. 144-163 |
| | | |
| --- | --- | --- |
| | Khalid Suraid Salim Alhattali, Rosmini Omar, Sulaiyam Aziz Alrumaidhi, Parisa Mohammadi | pp. 164-178 |
| | | |
| --- | --- | --- |
| | Noor - Anidaisma, Salleh Amat, Mohd Mahzan Awang, Mazita Ahmad | pp. 179-207 |
| | | |
| --- | --- | --- |
| | Yang Yu, Ong Choon Hee | pp. 208-219 |
| | | |
| --- | --- | --- |
| | Noor- Anidaisma, Salleh Amat, Mohd Mahzan Awang, Mazita Ahmad | pp. 241-267 |
| | | |
| --- | --- | --- |
| | Dayana Mastura Baharudin, Nurhafizah Kamilah Mohammad Azmi, Haslindar Ibrahim, Maran Marimuthu, Suhaily Shahimi | pp. 268-295 |