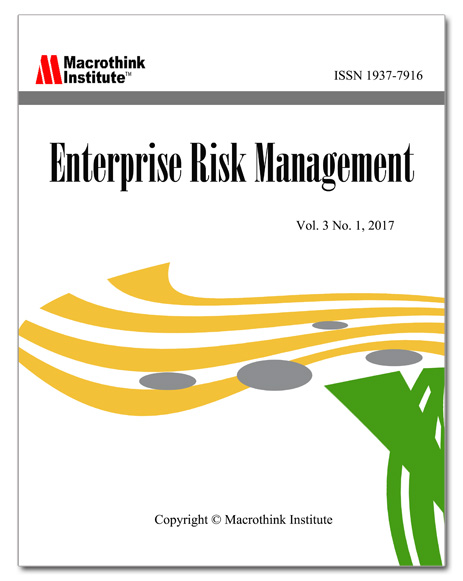 Enterprise Risk Management(ERM) is an online, international-oriented peer-reviewed journal and published by Macrothink Institute. The Enterprise Risk Management is being focus point among the management systems, managerial approaches and academic field. The Enterprise Risk Management publishes original theoretical and applied papers on business strategy and practice topics. The journal supports communication among various related disciplines and encourages contributions from practitioners, researchers, consumers, teachers and students.
The journal accepts article submissions online or by e-mail. For any questions, please contact: erm@macrothink.org
The topics to be covered include, but are not limited to:
Business strategies
Business practices
Business administration
Crisis management
Corporate governance
Corporate finance and investment
Corporate sustainability
Decision making
Entrepreneurship
Enterprise information management
Enterprise business intelligence
Investment and financial policy
Financial management
Human resource management
Managerial decision-support systems
Management information systems
Portfolio management
Operational management
Project management
Risk models
Risk analysis
Portfolio management
Value-based management
Accounting control

Also, the journal deals with mathematical, theoretical, social and psychological aspects of risk management such as risk perception, risk appetite, risk scenarios, risk tolerance, risk culture, framework, process, organization, human risk, etc. All scientific articles in Enterprise Risk Management are fully peer reviewed.
Announcements
ERM: Vol. 9, No. 1, 2023

Enterprise Risk Management is calling for papers for the Vol. 9, No. 1, 2023 issue (Deadline: November 10, 2023).

 

If you are interested in submitting a manuscript, please submit your manuscripts 

online

 or e-mail your paper to erm@macrothink.org

Posted: 2023-03-05
More...

ERM: Reviewer Recruitment

Requirements

1. Possess a doctoral degree in a discipline related closely to the journal

2. Hold a teaching or research position at a university or academic institution

3. Be fluent in academic and professional English

4. Have a strong interest in the scholarly journal

5. Work quickly and accurately under tight deadlines

6. Reviewers are required to follow the 

Committee on Publication Ethics

 (COPE)'s 

COPE Ethical Guidelines for Peer Reviewers




How to apply
1. Complete application form. You can find the application form and details at: https://en.macrothink.org/recruitment/
2. Send your application to the Editor of the journal: erm@macrothink.org

Posted: 2021-11-30
More...
Vol 8, No 1 (2023): [In Progress]
Enterprise Risk Management, Vol. 8, No. 1, 2023
Table of Contents
ARTICLES