International Journal of Human Resource Studies (IJHRS) is an internationally refereed journal published
quarterly 
in February, May, August and November, published by Macrothink Institute, United States in collaboration with Human Resource Management Academic Research Society (HRMARS). The journal aims to promote the theory and practice of HRM, to provide an international forum for discussion and debate, and to stress the critical importance of people management to a wide range of economic, political and social concerns. IJHRS's focus lies in providing a critical link between high quality academic research and the practical implications for business practice. It has become essential reading for everyone involved in personnel, training and human resource management.
We aim to post articles online within 3 weeks of acceptance. The journal accepts article submissions online or by e-mail. For any questions, please contact: ijhrs@macrothink.org
IJHRS is included in: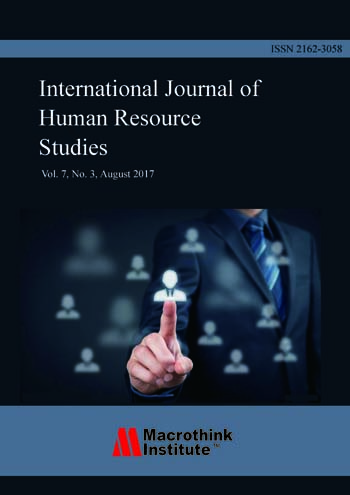 Areas include but are not limited to:
Human Resource Management
Human Resource Development
Management
Organizational Management
Learning and Development
Training and Development
Knowledge Management
Organizational Learning
Leadership and Team Management
Strategic HRM
Strategic Management
Performance Management
Compensation Management
Organizational Staffing
Employee Relations
Professional Development and relevant subjects.
Authors are invited to submit complete unpublished and original works, which are not under review in any other journal.
This journal is published in online version. The online version can be free access and download.
----------------------------------------------------------------------------------
Issues 
Current Issue (This issue is In Progress but contains articles that are final and fully citable)
----------------------------------------------------------------------------------
Each paper published in this journal is assigned a DOI® number, which appears beneath the author's affiliation in the published paper. Click HERE to know what is DOI (Digital Object Identifier)? Click HERE to retrieve Digital Object Identifiers (DOIs) for journal articles, books, and chapters.
Paper Selection and Publication Process
a). Upon receipt of paper submission, the Editor sends an E-mail of confirmation to the corresponding author within 1-3 working days. If you fail to receive this confirmation, your submission/e-mail may be missed. Please contact the Editor in time for that.
b). Peer review. The review process may take 4-10 weeks.
c). Notification of the result of review by E-mail.
d). The authors revise paper and pay an Article Processing Charge (200USD).
e). E-journal in PDF is available on the journal's webpage, free of charge for download. We aim to post articles within 3 weeks of acceptance.
Announcements
IJHRS: Conference announcement

6th National Conference Innovation Management in the Economy "Conditions - Challenges - Recommendations" & 11th International Scientific Conference "Economy, Management, Environment"
Posted: 2021-10-14
More...

IJHRS: Recruitment of Reviewers

Would you like to be a reviewer of International Journal of Human Resource Studies? Welcome you to join us.

Posted: 2020-03-19
More...

IJHRS: International Journal of Human Resource Studies Indexed in Excellence in Research for Australia (ERA) 2018 Journal List

International Journal of Human Resource Studies (IJHRS) has been indexed by ERA 2018 Journal List. Excellence in Research for Australia, Australia's national research evaluation framework. ERA identifies and promotes excellence across the full spectrum of research activity in Australia's higher education institutions.

Posted: 2019-07-16
More...
Vol 11, No 4S (2021): [In Progress]
International Journal of Human Resource Studies, Vol. 11, No. 4, November 2021, Special Issue
Table of Contents
Articles
| | | |
| --- | --- | --- |
| | Surekha Rajandiran, Nor Wahiza Abdul Wahat, Anusuiya Subramaniam | Pages 1-16 |
| | | |
| --- | --- | --- |
| | Aduni binti Johari, Nor Wahiza binti Abdul Wahat, Khairuddin bin Idris | Pages 17-33 |
| | | |
| --- | --- | --- |
| | Hairul Fazzlinyana Mohd Harris, Asmah Ismail | Pages 34-55 |
| | | |
| --- | --- | --- |
| | Nur Atikah Ahmad, Aminuddin Hassan, Sharifah Intan Sharina Syed Abdullah, Siti Suria Salim | Pages 56-79 |
| | | |
| --- | --- | --- |
| | Mohd Rizal Hussain, Nor Syazila Abdul Rahim, Fatma Azwani Abdul Aziz, Rahmawati Umar, Yap Wing Fen, Aminuddin Hassan, Norshahilda Md Shahril, Muhammad Fathul Ariffin Mohd Fauzi, Amini Amir Abdullah | Pages 80-97 |
| | | |
| --- | --- | --- |
| | Azrani Mohd Zain, Soaib Asimiran, Abu Bakar Razali, Nor Aniza Ahmad | Pages 98-110 |
| | | |
| --- | --- | --- |
| | Zaleha Endot, Rahimah Jamaluddin, Ahmad Fauzi Mohd Ayub, Mohd Hazwan Mohd Puad | Pages 111-122 |
| | | |
| --- | --- | --- |
| | Muhammad Asyraf Che Amat, Haziq Talhah | Pages 123-133 |
| | | |
| --- | --- | --- |
| | Kalaikumar Arujunan, Ismi Arif Ismail, Shamsuddin Othman, Mohd Mursyid Arshad | Pages 134-144 |
| | | |
| --- | --- | --- |
| | Kalaikumar Arujunan, Ismi Arif Ismail, Shamsuddin Othman, Mohd Mursyid Arshad | Pages 145-156 |
| | | |
| --- | --- | --- |
| | Norlina Muhammad, Ismi Arif Ismail, Mohd Mursyid Arshad, Ahmad Aizuddin Md Rami | Pages 157-173 |
| | | |
| --- | --- | --- |
| | Chen Lei, Fazilah Razali | Pages 174-195 |
| | | |
| --- | --- | --- |
| | Diong Zhi Ling, Chee Chen Soon, Mohd Rozilee Wazir Norjali Wazir, Kok Lian Yee | Pages 196-204 |
| | | |
| --- | --- | --- |
| | Shamsudin Othman, Rosmaria Omar, Azhar Md Sabil | Pages 205-224 |
| | | |
| --- | --- | --- |
| | Sugendran Nagandran, Aminuddin Hassan, Noraziela Abdul Majid, Norlizah Che Hassan, Siti Suria Salim, Siti Salina Mustakim | Pages 225-242 |
| | | |
| --- | --- | --- |
| | Azrani Mohd Zain, Soaib Asimiran, Abu Bakar Razali, Nor Aniza Ahmad | Pages 243-258 |
| | | |
| --- | --- | --- |
| | Zaharah Abd Aziz, Rahimah Jamaluddin, Suhaida Abdul Kadir | Pages 259-273 |
| | | |
| --- | --- | --- |
| | Tan Tong Hock, Ahmad Fauzi Mohd Ayub, Aida Suraya Md Yunus, Nur Raidah Mohd Salim | Pages 274-286 |
| | | |
| --- | --- | --- |
| | Nurul Syahida Mohd Ayob, Siti Aishah Hassan, Mohd Hamdan Mohamed Nordin | Pages 287-306 |