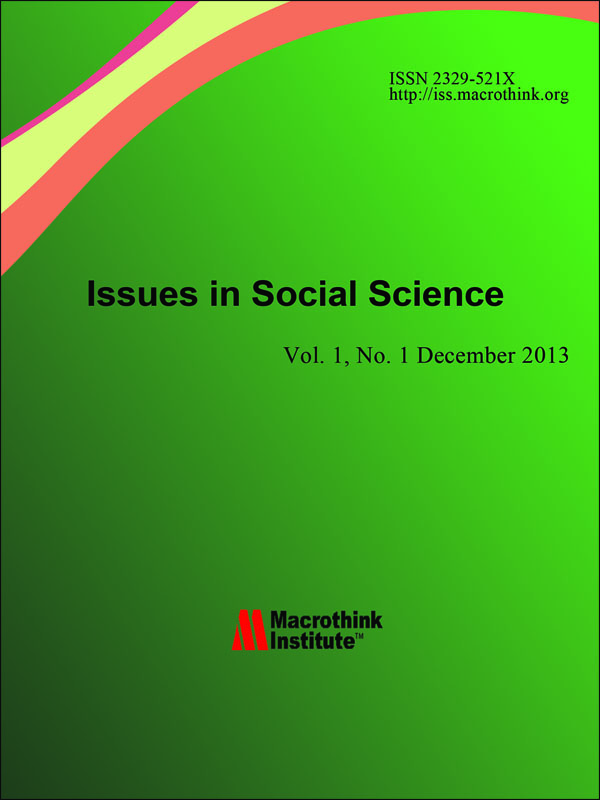 Issues in Social Science (ISS) is an international, double-blind peer-reviewed, open-access, online journal published by the Macrothink Institute. The journal focuses on the following topics: anthropology, sociology, politics, culture, history, philosophy, economics, education, management, arts, laws, linguistics and psychology. It provides an academic platform for professionals and researchers to contribute innovative work in the field. The journal carries original and full-length articles that reflect the latest research and developments in both theoretical and practical aspects of society and human behaviors.
--------------------------------------------------------------------
NOTE:
The publisher and journal have a policy of "Zero Tolerance on the Plagiarism". We check the plagiarism issue through two methods: reviewer check and plagiarism prevention tool (ithenticate.com).
All submissions will be checked by iThenticate before being sent to reviewers.
--------------------------------------------------------------------
Paper Selection and Publication Process

a). Upon receipt of paper submission, the Editor sends an E-mail of confirmation to the corresponding author within 1-3 working days. If you fail to receive this confirmation, your submission/e-mail may be missed. Please contact the Editor in time for that.

b). Peer review. The review process may take 4-10 weeks.

c). Notification of the result of review by E-mail.

d). The authors revise paper and pay Article Processing Charge (Formatting and Hosting) (100USD).

e). E-journal in PDF is available on the journal's webpage, free of charge for download. We aim to post articles online within 3 weeks of acceptance.
----------------------------------------------------------------------
Author Guidelines
1. Authors must ensure that their papers are free of spelling and grammatical errors and typos.
2. Research papers and research notes should not exceed 8,000 and 3,000 words, respectively.
3. The first page of an article should contain the title of the paper, name(s) and affiliation(s) of the author(s) and an abstract not exceeding 200 words.
4. The first page should also contain five key words according to the Classification System for Journal Articles as used by the Journal of Economic Literature.
5. Equations in the text should be numbered consecutively using Arabic numerals within simple brackets and aligned against the right margin.
6. All appendices should be numbered consecutively using upper case roman numerals and shown before the list of references.
7. When formulae displayed have been derived by the author, the full derivations should be given on separate sheets (not to be published) for the information of the referees.
8. References should be cited within the text as follows: According to Wickremasinghe (2005), foreign exchange market … These results are inconsistent with those of other studies (Perera, 1995; Silva, 2000)
9. List of references should show each citation in alphabetical order.
10. Author should register with the journal before submitting manuscripts. Don't forget to choose "author when you register in www.macrothink.org/jmr for uploading your manuscript succefully online.
11. Page proofs will be sent to the corresponding author. The corrected manuscripts should be submitted within 5 working days.
12. DOIs in ReferencesWhen the cited items have DOIs, the authors should add DOI persistent links to the regular references The persistent links should be active.Format of persistent link: http://dx.doi.org/+DOI (without "doi:")Example of persistent link: http://dx.doi.org/10.1109/2.901164 The authors may retrieve articles' DOIs at: http://www.crossref.org/SimpleTextQuery/
Announcements
Call for Papers

Issues in Social Science welcome papers in all aspects of anthropology, sociology, politics, culture, history, philosophy, economics, education, management, arts, laws, linguistics and psychology, and relevant subjects.

For paper submission, please register with this website and submit your paper online.

If you have any questions, please contact with the Editor at iss@macrothink.org

It is appreciated if you can spread this message to your colleagues and academic networks.


Posted: 2013-06-05

Recruitment: Reviewers of Journal

Status: Part time 
Working language: English
Working style: Internet-based 
Payment: Volunteer job, no payment

Description

Participation in the peer-review process is absolutely essential to the success and reputation of the journal. Reviewers along with the editors determine which work is of quality and significance; and, because of the extensive readership, what research and scholarship will ultimately have an impact on literacy in classrooms nationally and internationally. Reviewers are asked to promote our journals by submitting their own manuscripts for review, by recommending and encouraging other potential authors, by introducing the journal to potential readers and subscribers; and/or by communicating formally and informally with the editors about issues of relevance to the journal.

Requirements

a). have a doctoral degree in the specific subject related closely to the journal; 
b). have a job at a university or academic organization, in a teaching or research position; 
c). have free time outside your regular job, at least 6 hours per month (2-4 papers for review per month); 
d). be familiar with the APA citation system; 
e). be fluent in academic and professional English; 
f). have a strong interest in a scholarly journal; 
g). work quickly and accurately to tight deadlines; 
h). have an effective network in your research field.

How to apply

1. Find details and download application form at: http://www.macrothink.org/recruitment.htm
2. Send your application to iss@macrothink.org

It is appreciated if you can spread this message to your colleagues and academic networks.

Posted: 2013-06-05
Vol 11, No 2 (2023)
Issues in Social Science  Vol. 11, No. 2, December 2023 (In proceeding...)
Table of Contents
Articles
| | | |
| --- | --- | --- |
| | Renier Steyn, Mahlo Mokgalong, Jo Nel, Adri Williams | p1 |
| | | |
| --- | --- | --- |
| | Md. Anwar Hossain Mridha, Monira Begum | p8 |