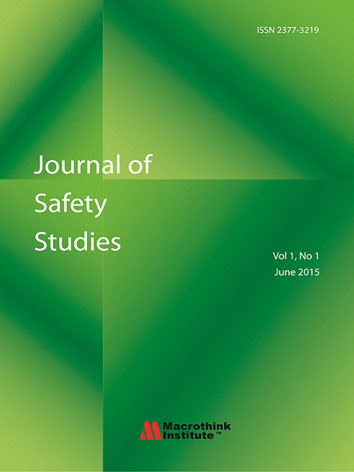 Journal of Safety Studies (JSS) is an international, peer-reviewed, open-access journal, published by the Macrothink Institute. It publishes original research, applied, and educational articles in all areas of human and industrial safety. 
Authors are encouraged to submit complete, unpublished, original works that are not under review in any other journals. Publication topics include but not limit to:
· Theories and methods of safety science, engineering, and technology
· Safety management, monitoring and supervision, and occupational health
· Safety assessment and risk analysis
· Safety economics
· Safety psychology and education
· Fire and blast safety and smoke control
· Safety in coal mine, Machinery and civil engineering
· Drug, healthcare and patient safety
· Food safety
· Construction and environment safety
· Traffic and transportation safety
· Chemical health and safety of hazardous materials
Issues
In Progress (Vol. 7, No. 1)
----------------------------------------------------------------------
Paper Selection Process
a). Upon receipt of paper submission, the Editor sends an E-mail of confirmation to the corresponding author within 1-3 working days. If you fail to receive this confirmation, your submission/e-mail may be missed. Please contact the Editor in time for that.
b). Peer review. We use double-blind system for peer-review; both reviewers and authors' identities remain anonymous. The paper will be peer-reviewed by three experts; two reviewers from outside and one editor from the journal typically involve in reviewing a submission. The review process may take 4-10 weeks.
c). Notification of the result of review by E-mail.
d). The authors revise paper and pay Article Processing Charge (Formatting and Hosting) (200USD).
e). E-journal in PDF is available on the journal's webpage, free of charge for download.
----------------------------------------------------------------------
NOTE:
The publisher and journal have a policy of "Zero Tolerance on the Plagiarism". We check the plagiarism issue through two methods: reviewer check and plagiarism prevention tool (ithenticate.com).
All submissions will be checked by iThenticate before being sent to reviewers.
Vol 7, No 1 (2022)
Vol 7, No 1 December, 2022 (In Progress)
Table of Contents
Articles
| | | |
| --- | --- | --- |
| | Boniphace Kutela, Rafael John Mwekh'iga, Arnold Mutegeki Kilaini, Raynard Tom Magehema, Geophrey Mbatta | 27-51 |