Journal of Agricultural Studies in an international cross-disciplinary, peer-reviewed journal dedicated to advancing the understanding of sustainability in agriculture, bio sciences and food systems. Authors are encouraged to submit complete, unpublished, original works that are not under review in any other journals. The scopes of the journal include, but are not limited to, the following fields: Agricultural Economics & Resource Management, Agricultural, Engineering, Agriculture & Ecology, Animal Agriculture, Biorenewable Resources, Crops, Forestry, General & Introductory Agriculture, Horticulture, Pests, Diseases & Weeds, Soil, and Tropical Agriculture.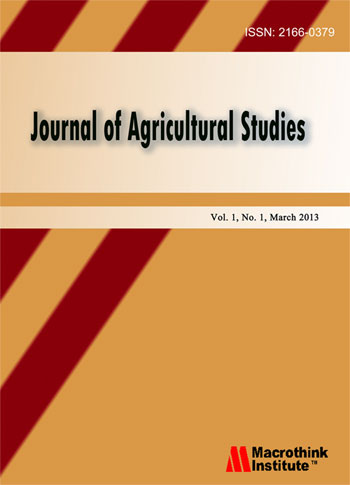 Paper Selection and Publication Process
Upon receipt of paper submission, the Editor sends an E-mail of confirmation to the corresponding author within 1-3 working days. If you fail to receive this confirmation, your submission/e-mail may be missed. Please contact the Editor in time for that.
Peer review. We use double-blind system for peer-review; both reviewers and authors' identities remain anonymous. The paper will be peer-reviewed by three experts; two reviewers from outside and one editor from the journal typically involve in reviewing a submission. The review process may take 2-3 weeks.
Notification of the result of review by E-mail.
The authors revise paper and pay publication fee (100USD).
After publication, we will send the soft copy of the current issue to the authors' email.
E-journal in PDF is available on the journal's webpage, free of charge for download.
Announcements
: Call for Papers

Journal of Agricultural Studies (JAS) is calling for submission for the issue of Vol. 2, No. 2, September 2014.

Welcome you to submit manuscripts to this journal.

If you have any questions, please contact with the Editor: jas@macrothink.org

It is appreciated if you can spread this message to your colleagues and academic networks. Thanks.
Posted: 2013-10-22
More...

Recruitment of Reviewers

Status: Part time
Working language: English
Working style: Internet-based
Payment: Volunteer job, no payment

Description

Participation in the peer-review process is absolutely essential to the success and reputation of the journal. Reviewers along with the editors determine which work is of quality and significance; and, because of the extensive readership, what research and scholarship will ultimately have an impact on literacy in classrooms nationally and internationally. Reviewers are asked to promote our journals by submitting their own manuscripts for review, by recommending and encouraging other potential authors, by introducing the journal to potential readers and subscribers; and/or by communicating formally and informally with the editors about issues of relevance to the journal..

Requirements

a). have a doctoral degree in the specific subject related closely to the journal;
b). have a job at a university or academic organization, in a teaching or research position;
c). have free time outside your regular job, at least 6 hours per month (2-4 papers for review per month);
d). be familiar with the APA citation system;
e). be fluent in academic and professional English;
f). have a strong interest in a scholarly journal;
g). work quickly and accurately to tight deadlines;
h). have an effective network in your research field.

How to apply

1. Find details and download application form at: http://www.macrothink.org/recruitment.htm
2. Send your application to: jas@macrothink.org

Posted: 2012-11-11
More...
Vol 2, No 2 (2014)
Journal of Agricultural Studies, Vol. 2, No. 2, September 2014
Table of Contents
Articles
This work is licensed under a
Creative Commons Attribution 3.0 License
.
To make sure that you can receive messages from us, please add the 'macrothink.org' domain to your e-mail 'safe list'. If you do not receive e-mail in your 'inbox', check your 'bulk mail' or 'junk mail' folders.
Copyright © Macrothink Institute    ISSN 2166-0379
'Macrothink Institute' is a trademark of Macrothink Institute, Inc.