Journal of Biology and Life Science (JBLS; ISSN 2157-6076) is an internationally refereed journal, published online by Macrothink Institute, United States. The journal publishes research papers, reviews and short communications in all fields of biology and life science.
The journal is published semiannually in February and August. We aim to post articles online within 3 weeks of acceptance. The Journal accepts article submissions online or by e-mail.
JBLS is included in: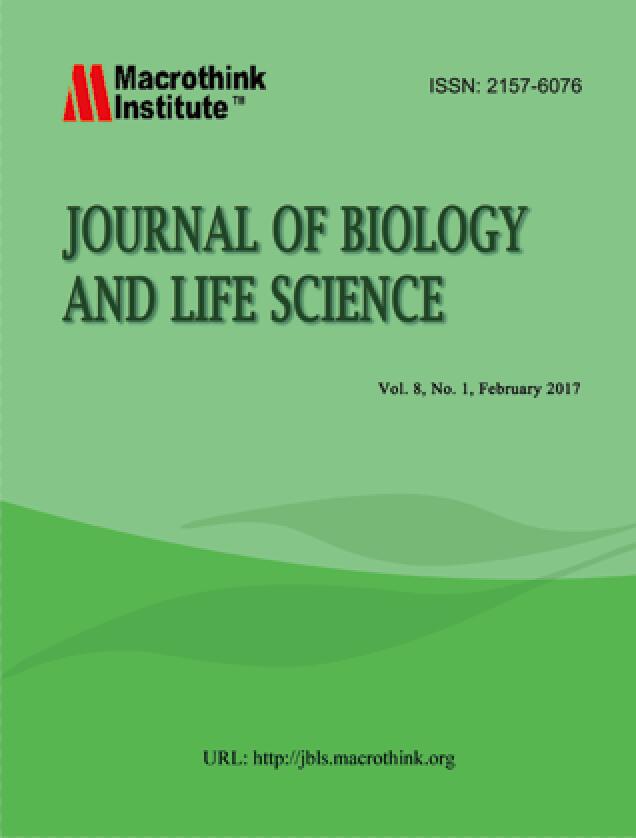 CrossRef
Gale's Academic Databases
Genamics JournalSeek
GetInfo
Google Scholar
J-Gate
Journal Directory
JournalTOCs
LOCKSS
MediaFinder®-Standard Periodical Directory
PKP Open Archives Harvester
ProQuest
Sherpa/Romeo
Standard Periodical Directory
UTS Library
WorldCat
Areas include but are not limited to:
Biology
Life Science
Anatomy, Botany
Cytology
Genetics
Microbiology
Physiology
Zoology
Ecology
Hydrobiology
Neurobiology
Developmental Biology
Molecular Biology
Biochemistry
Biophysics, and Biotechnology
Authors are invited to submit complete unpublished and original works, which are not under review in any other journal.
This journal is published in online version. The online version can be free access and download.
----------------------------------------------------------------------------------
Issues 
Current Issue (This issue is In Progress but contains articles that are final and fully citable)
----------------------------------------------------------------------------------
Each paper published in Business and Economic Research is assigned a DOI® number, which appears beneath the author's affiliation in the published paper. Click HERE to know what is DOI (Digital Object Identifier)? Click HERE to retrieve Digital Object Identifiers (DOIs) for journal articles, books, and chapters.
Paper Selection and Publication Process
a). Upon receipt of paper submission, the Editor sends an E-mail of confirmation to the corresponding author within 1-3 working days. If you fail to receive this confirmation, your submission/e-mail may be missed. Please contact the Editor in time for that.
b). Peer review. The review process may take 2-3 weeks.
c). Notification of the result of review by E-mail.
d). The authors revise paper and pay publication fee(100USD).
e). E-journal in PDF is available on the journal's webpage, free of charge for download. We aim to post articles within 3 weeks of acceptance.
Announcements
: Call for papers

Journal of Biology and Life Science is calling for submission for the issue of Vol. 7, No. 2, August 2016.

Welcome you to submit manuscripts to this journal. Please find the information for authors.

If you have any questions, please contact: jbls@macrothink.org

It is appreciated if you could share this information with your colleagues and associates. Thank you.

Posted: 2016-02-09
More...

: Reviewers Recruitment

Description

Participation in the peer-review process is absolutely essential to the success and reputation of the journal. Reviewers along with the editors determine which work is of quality and significance; and, because of the extensive readership, what research and scholarship will ultimately have an impact on literacy in classrooms nationally and internationally. Reviewers are asked to promote our journals by submitting their own manuscripts for review, by recommending and encouraging other potential authors, by introducing the journal to potential readers and subscribers; and/or by communicating formally and informally with the editors about issues of relevance to the journal..

Requirements

a). have a doctoral degree in the specific subject related closely to the journal; b). have a job at a university or academic organization, in a teaching or research position; c). have free time outside your regular job, at least 6 hours per month (2-4 papers for review per month); d). be familiar with the APA citation system; e). be fluent in academic and professional English; f). have a strong interest in a scholarly journal; g). work quickly and accurately to tight deadlines; h). have an effective network in your research field.

How to apply

1. Find details and download application form at: http://www.macrothink.org/recruitment.htm 

2. Send your application to: jbls@macrothink.org

Posted: 2015-06-05
More...
Vol 7, No 2 (2016)
Journal of Biology and Life Science, Vol. 7, No. 2, August 2016
Table of Contents
Articles
| | | |
| --- | --- | --- |
| | Ojutiku R. O., Kolo R. J., Yakubu M. A. | 1-12 |
| | | |
| --- | --- | --- |
| | Ghulam Nabi, Tariq Aziz, Muhammad Imtiaz Aqdas, Nasrullah Khan, Aziz ur Rahman, Dr. Saima, Noor Ul Hassan | 13-18 |
| | | |
| --- | --- | --- |
| | Joseph C. Onyilagha, Francisca N. Nnajiofor | 19-25 |
| | | |
| --- | --- | --- |
| | Wanmi Nathaniel, Onyeanusi I. Barth, Nzalak J. Oliver, Aluwong Tanang | 26-40 |
| | | |
| --- | --- | --- |
| | Ashraf abdelmotaleb elsayed, Amr M. Mowafy, Ahmed Abd Elrazak, Mahmoud M. Fawzy, Yehia Osman | 41-52 |