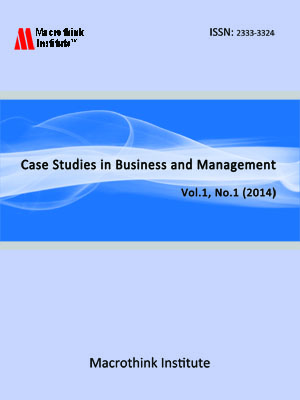 Case Studies in Business and Management is an international, peer-reviewed and open-access journal published by Macrothink Institute. It provides an academic platform for professionals and researchers to contribute innovative works in cases of business and management. The journal is only published online.
The scopes of the journal include corporate governance, human resource management, financial management, marketing management, strategic management, production management, operations management, entrepreneurship, e-business, service management and information technology management, etc.
The journal accepts article submissions online or by e-mail. For any questions, please contact: csbm@macrothink.org.
Paper Selection and Publication Process
a). Upon receipt of paper submission, the Editor sends an E-mail of confirmation to the corresponding author within 1-3 working days. If you fail to receive this confirmation, your submission/e-mail may be missed. Please contact the Editor in time for that.
b). Peer review. The review process may take 4-10 weeks.
c). Notification of the result of review by E-mail.

d). The authors revise paper and pay article processing charge (100USD).

e). E-journal in PDF is available on the journal's webpage, free of charge for download. 
Announcements
Call for Papers: Vol. 9, No. 1, 2022

Case Studies in Business and Management is calling for submission of papers for the Vol. 9, No. 1, 2022 issue (Deadline: December 15, 2022). If you are interested in submitting a manuscript, please submit your manuscripts online or e-mail your paper to csbm@macrothink.org




It is appreciated if you can spread this message to your colleagues and academic networks.

Posted: 2021-12-14
More...
Vol 9, No 1 (2022): [In Progress]
Case Studies in Business and Management, Vol. 9, No. 1, 2022
Table of Contents
Articles
| | | |
| --- | --- | --- |
| | Jenita Thinakaran, C. Chinnusamy, Mark Wm Cawman | p1 |