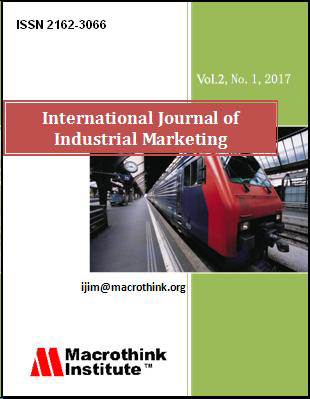 International Journal of Industrial Marketing (IJIM) is an internationally online journal, peer-reviewed, published by Macrothink Institute, USA. The journal provides theoretical, empirical and case-based research geared to the needs of marketing scholars and practitioners researching and working in industrial and business-to-business markets.
The journal focuses on the following topics:
Industrial Marketing
Sales
Supply Chain Management
Sales Promotion
Distribution, etc.
Issues  
------------------------------------------------ 

Paper Selection and Publication Process
a). Upon receipt of paper submission, the Editor sends an E-mail of confirmation to the corresponding author within 1-3 working days. If you fail to receive this confirmation, your submission/e-mail may be missed. Please contact the Editor in time for that.
b). Peer review. We use double-blind system for peer-review; both reviewers and authors' identities remain anonymous. The paper will be peer-reviewed by three experts; two reviewers from outside and one editor from the journal typically involve in reviewing a submission. The review process may take 4-10 weeks.
c). Notification of the result of review by E-mail.
d). If the paper is accepted for publication, you will be asked to pay an Article Processing Charge (Formatting and Hosting) (100USD). Please find payment information at: http://payment.macrothink.org
e). E-journal in PDF is available on the journal's webpage, free of charge for download. We aim to post articles online within 3 weeks of acceptance.
------------------------------------------------------------------------------------

NOTE
The publisher and journal have a policy of "Zero Tolerance on the Plagiarism". We check the plagiarism issue through two methods: reviewer check and plagiarism prevention tool (ithenticate.com).
All submissions will be checked by iThenticate before being sent to reviewers.
Each paper published in Education and Linguistics Research  is assigned a DOI® number, which appears beneath the author's affiliation in the published paper. Click HERE to know what is DOI (Digital Object Identifier). Click HERE to retrieve Digital Object Identifiers (DOIs) for journal articles, books, and chapters.
------------------------------------------------------------------------------------
INDEX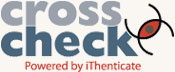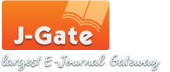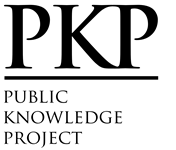 Announcements
: Recruitment of Reviewers

Would you like to be a reviewer of International Journal of Industrial Marketing? Welcome to join us.

Status: Part time 
Working language: English
Working style: Internet-based 
Payment: Volunteer job, no payment

Requirements

a). have a doctoral degree in the specific subject related closely to the journal; 
b). have a job at a university or academic organization, in a teaching or research position; 
c). have free time outside your regular job, at least 6 hours per month (2-4 papers for review per month); 
d). be familiar with the APA citation system; 
e). be fluent in academic and professional English; 
f). have a strong interest in a scholarly journal; 
g). work quickly and accurately to tight deadlines; 
h). have an effective network in your research field.

How to apply

1. Find details and download application form at: http://www.macrothink.org/recruitment.htm 
2. Send your application to: ijim@macrothink.org
Posted: 2017-05-08
More...

: Call for Papers/ Publication of Manuscript

International Journal of Industrial Marketing (IJIM) is an internationally refereed journal published  by Macrothink Institute, United States of America.

Call for Research Articles

IJIM publish articles about Industrial Marketing, Sales, Supply Chain Management, Advertisement, Sales Promotion, Distribution, and relevant subjects. The journal welcomes the submission of manuscripts that meet the general criteria of significance and scientific excellence, and will publish:

•       Original articles in basic and applied research
•       Case studies
•       Critical reviews, surveys, opinions, commentaries and essays

Interested scholars could  register with this website and submit your paper online or emailed to ijim@macrothink.org
Posted: 2017-05-08
More...