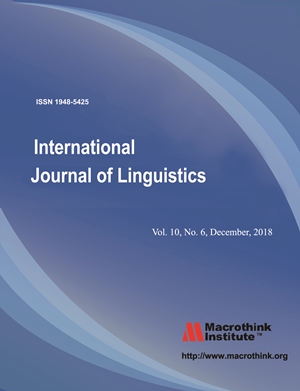 International Journal of Linguistics (ISSN 1948-5425) which is an online scholarly journal, peer-reviewed, published by Macrothink Institute. The journal encourages submission in but not limited to subjects of linguistics, including theoretical linguistics, descriptive linguistics and applied linguistics. In addition to the broad area of language research, the creative approaches to language learning and teaching are also involved, leading linguistics to a higher level of cognitive development. The linguistic research contributes to cooperation of people groups throughout the world. Abundant and professional resources of linguistics are needed to meet a wide and infinitely varied range of communicative goals. From this perspective, the journal aims to improve the communicative power of the language and consolidate the national language communicative tool available to speakers. The International Journal of Linguistics also provides the opportunities for sharing the resources among members of the academic community.
International Journal of Linguistics is now indexed and listed in the following list: 
ANVUR
ERA
Gale's Academic Databases
Google Scholar
J-Gate
Linguistics Abstracts Online (Wiley)
NewJour
PKP Open Archives Harvester
ProQuest
Sherpa/Romeo
International Journal of Linguistics has used DOI (Digital Object Identifier) system. Each article will be assigned a DOI number and add persistent link for retrieval.
What is doi?
The Digital Object Identifier (DOI®) System is for identifying content objects in the digital environment. DOI® names are assigned to any entity for use on digital networks. They are used to provide current information, including where they (or information about them) can be found on the Internet. Information about a digital object may change over time, including where to find it, but its DOI name will not change.
pls find more DOI information at http://www.doi.org/
Announcements
: International Journal of Linguistics listed by Linguistics Abstracts Online (Wiley)

We are pleased to announce that the International Journal of Linguistics has been listed by Linguistics Abstracts Online (Wiley)

Posted: 1969-12-31

: Issues

Posted: 1969-12-31
More...

: Call for Paper Submission

We sincerely invite you to submit your excellent research papers and show the critical and original views on Linguistics. 

And we also would like to cooperate with other institutions to publish special issues.

If you are interested in our journal, please find the journal's profile and submit manuscripts online at:  http://www.macrothink.org/journal/index.php/ijl/about or sent to: ijl@macrothink.org 
You can find author guidelines at: http://www.macrothink.org/author

If you have any questions, please contact with us at ijl@macrothink.org

Posted: 2011-11-24
More...

: Paper Selection and Publication Process

a)     Upon receipt of paper submission, the system will send an acknowledgement to the corresponding author immediately.

b)     The process of peer review may take 4-10 weeks. You will be able to trace the process in your user account.

c)     We will send an acceptance E-mail to the corresponding author, indicating acceptance or not, as well as the date of publication. The authors should decide whether or not to accept our arrangements for publishing.

d)     Authors need to re-edit the paper, using the template. The re-edited paper should use the template provided by us and meet the formatting requirements outlined in the Author Guidelines (http://author.macrothink.org).

e)     Once you submit the re-edited paper, the system will send you a confirmation E-mail.

f)      After publishing, the authors may download the e-journal from the website.

Posted: 1969-12-31

: Recruitment: Reviewers of Journal

Those scholars who possess a PhD or a similar qualification in relevant fields with experience in reviewing research articles are welcome to join us.

 

Posted: 2009-05-04
More...
Vol 13, No 4 (2021): In Progress
International Journal of Linguistics Vol. 13, No. 4, August 2021
Table of Contents
Articles
| | | |
| --- | --- | --- |
| | Muhammad Maan Mamdouh, Muhammed Ibrahim Hamood | pp. 1-13 |
| | | |
| --- | --- | --- |
| | Maria Di Maro, Antonio Origlia, Francesco Cutugno | pp. 14-35 |
| | | |
| --- | --- | --- |
| | Muhammad Maan Mamdouh, Muhammed Ibrahim Hamood | pp. 36-48 |