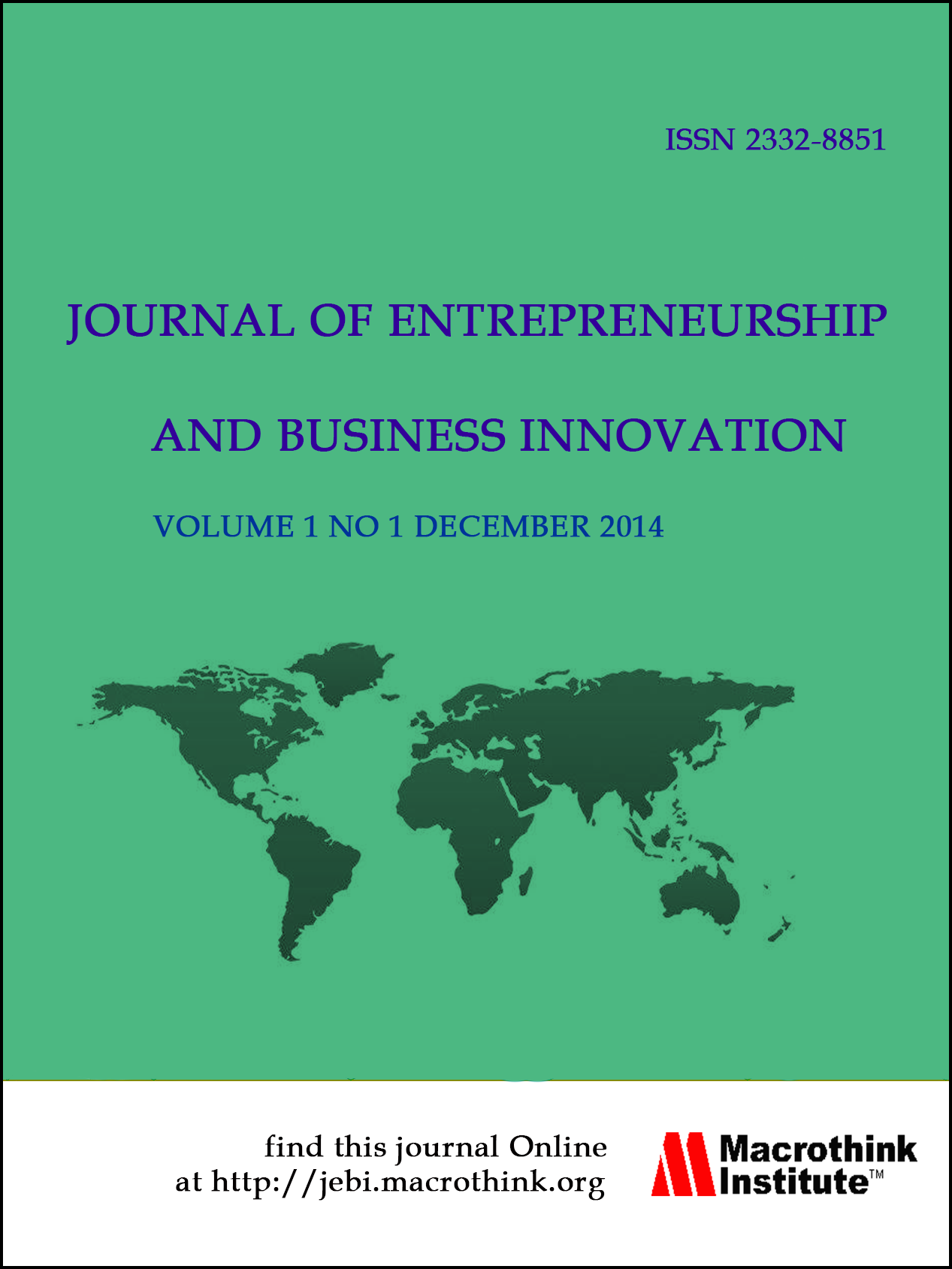 Journal of Entrepreneurship and Business Innovation is an online journal,  peer-reviewed and published by Macrothink Institute. The Journal has a broad coverage from theoretical and methodological contributions to empirical observations and experiences in the Entrepreneurship and Business Innovation field. It offers an interface between entrepreneurship and innovation, as well as business corporate strategy and government economic policy. 
The treated topics include a wide range of subjects that following:
Entrepreneurship

Business Innovation

Business Administration

Business Development

Business Management

SMEs

New Business Strategies

International Business

Accounting and Finances in Organizations

Marketing

Commerce

Corporate Policies

Management and relevant subjects.
(JEBI) aims to establish channels of communication and to disseminate knowledge between policy makers, experts and professionals working in universities, government departments, research institutions, as well as industry and related business.
Issues
--------------------------------------------------------
Paper Selection and Publication Process
a). Upon receipt of paper submission, the Editor sends an E-mail of confirmation to the corresponding author within 1-2 working days. If you fail to receive this confirmation, your submission/e-mail may be missed. Please contact the Editor in time for that.
b). Peer review. We use double-blind system for peer-review; both reviewers and authors' identities remain anonymous. The paper will be peer-reviewed by three experts; two reviewers from outside and one editor from the journal typically involve in reviewing a submission. The review process may take 4-10 weeks.
c). Notification of the result of review by E-mail.
d). The authors revise paper and pay the Article Processing Charge (Formatting and Hosting) (100USD).
e). E-journal in PDF is available on the journal's webpage, free of charge for download.
 NOTE:
The publisher and journal have a policy of "Zero Tolerance on the Plagiarism". We check the plagiarism issue through two methods: reviewer check and plagiarism prevention tool (ithenticate.com).
All submissions will be checked by iThenticate before being sent to reviewers.
Announcements
: Recruitment for Reviewers

ournal of Entrepreneurship and Business Innovation are recruiting reviewers for the journal. If you are interested to be a reviewer, we welcome you to join us.

Please complete the application form  and send it to jebi@macrothink.org

 It is appreciated if you could share this information with your colleagues and associates.

Posted: 2020-08-18
More...
Vol 10, No 2 (2023)
Journal of Entrepreneurship and Business Innovation, Vol. 10 No. 2 December  2023
Table of Contents
Articles
| | | |
| --- | --- | --- |
| | Muhammad M. Maaji, Casey Barnett, Chanramy Long | p1 |
| | | |
| --- | --- | --- |
| | Wijetunge Arachchige Deepani Sajeewa Wij, S. M. Ferdous Azam, Jacquline Tham | p22 |
| | | |
| --- | --- | --- |
| | Mohamed Abdirahman Abdulle, Dayah Abdi Kulmie, Mukhtar Sheikh Hussein | p38 |