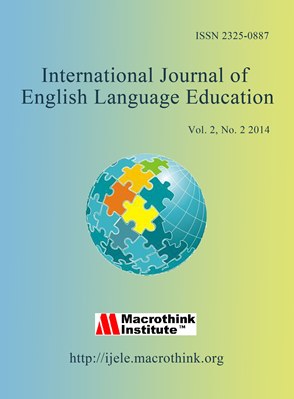 International Journal of English Language Education (IJELE) is an international, peer-reviewed, online journal published by Macrothink Institute, USA. It provides an academic platform for professionals and researchers to contribute innovative work in the field. IJELE carries original and full-length articles that reflect the latest research and developments in both theoretical and practical aspects of English Language Education. The journal is published online, and the online version is free access and download. The journal focuses on the following topics:
* Theory and practice in English Language Teaching and Learning
* Teaching English as a Second or Foreign Language
* English language teachers' training and education
* Studies in English Culture and Literature
--------------------------------------------------------------------
Index/List/Archive

Crossref
Excellence in Research for Australia (ERA)
LOCKSS
PKP Open Archives Harvester
Scilit
Sherpa/Romeo
--------------------------------------------------------------------
Issues
Vol. 11, No. 2  (Current Issue)
--------------------------------------------------------------------

Paper Selection and Publication Process
a. Upon receipt of paper submission, the Editor sends an E-mail of confirmation to the corresponding author within 1-3 working days. If you fail to receive this confirmation, your submission/e-mail may be missed. Please contact the editor in time for that.
b. Peer Review. The process of peer review may take 4-10 weeks.
c. Notification of the result of review by E-mail.
d. Authors need to revise the paper according to reviewer's comments and Author Guidelines  (http://www.macrothink.org/author )
e. Authors need to pay the Article Processing Charge of 200 USD.
f. Your accepted paper will be published online within two week's time after the final draft completed.
g. After publishing, the authors may download the e-journal from the website.

NOTE:

The publisher and journal have a policy of "Zero Tolerance on the Plagiarism". We check the plagiarism issue through two methods: reviewer check and plagiarism prevention tool (ithenticate.com). All submissions will be checked by iThenticate before being sent to reviewers.
--------------------------------------------------------------------
Vol 11, No 2 (2023)
International Journal of English Language Education, Vol. 11, No. 2 2023
Table of Contents
Articles
| | | |
| --- | --- | --- |
| | Eythar Mohammed Alzahrani, Abdullah Mohammed Alshaikhi | pp. 1-15 |
| | | |
| --- | --- | --- |
| | Phidelia Awute, Andreas Awute, Sampson Kobla Ezuh | pp. 16-34 |
| | | |
| --- | --- | --- |
| | Reem Abdullah Almalki, Miriam Abdullah Alkubaidi, Dalal Abdulrahman Bahanshal | pp. 35-59 |