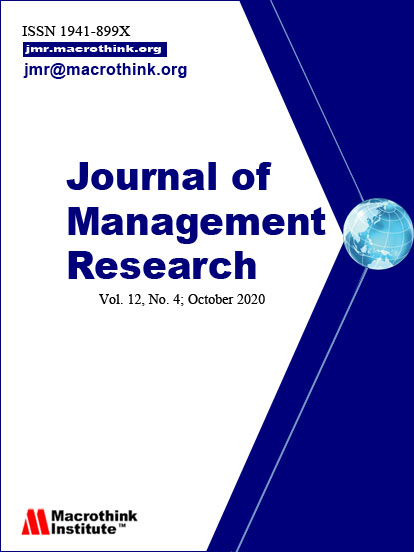 Journal of Management Research (JMR)  is an online scholarly journal, peer-reviewed, published by Macrothink Institute. The journal publishes research paper covers these subjects: Business, Management, Marketing, Finance, organizational development, corporation administration, human resource management and relevant subjects.
The scopes of the journal include, but are not limited to, the following fields:
•Business
•Management
•Marketing
•Finance
•organizational development
•corporation administration
•human resource management and relevant subjects
The journal is published online semiannually in April and October. We aim to post articles online within 3 weeks of acceptance. The journal accepts article submissions online or by e-mail. For any questions, please contact: jmr@macrothink.org
The journal is included and abstracted in: 
Each paper published in JMR is assigned a DOI® number, which appears beneath the author's affiliation in the published paper. Click HERE to know what is DOI (Digital Object Identifier)? Click HERE to retrieve Digital Object Identifiers (DOIs) for journal articles, books, and chapters.
Paper Selection and Publication Process
a). Upon receipt of paper submission, the Editor sends an E-mail of confirmation to the corresponding author within 1-3 working days. If you fail to receive this confirmation, your submission/e-mail may be missed. Please contact the Editor in time for that.
b). Peer review. The review process may take 4-10 weeks.
c). Notification of the result of review by E-mail.
d). The authors revise paper and pay an Article Processing Charge (200USD).
e). E-journal in PDF is available on the journal's webpage, free of charge for download. We aim to post articles within 3 weeks of acceptance.
Announcements
: Calling for Special Issue

In order to better serve the needs of the academic community, we welcome collaborations with other institutions to publish special issues. If you are interested in publishing a special issue with our journal, please send your inquiry and proposal to jmr@macrothink.org.
Posted: 2023-03-21
More...

Notice for Price Adjustment

Effective 1 January 2013, the publication fee will increase from 100.00USD to 200.00USD. Manuscripts submitted on or after this date will be charged the new rate of 200.00USD per article.
Manuscripts submitted in 2012 can take advantage of the old rate (100.00USD) if paid on or before January 31, 2013.
All 2012's manuscripts unpaid by 31 January 2013 will be charged the new rate of 200.00USD.
Thank you very much for your cooperation.
Posted: 2012-11-20
More...
Vol 16, No 1 (2024)
Vol. 16, No. 1, April 2024
Table of Contents
Articles
| | | |
| --- | --- | --- |
| | Aldemy de Souza Silva, Paulo Cesar Bontempo, Bento Alves Costa Filho | 1-14 |